This past fall, twenty-six Civil and Environmental Engineering alumni were inducted into the new CEE Academy of Distinguished Alumni. The ceremony took place at a sold-out banquet in the newly renovated California Memorial Stadium.
The ceremony marked the launch of the new CEE Academy of Distinguished Alumni. Established by CEE and its Advisory Council, the Academy honors the accomplishments of CEE alumni who have contributed to societal well‐being, to the profession, and to the CEE department and the College of Engineering at Berkeley.
"This event reminded me of what a unique and special department Berkeley CEE is and how it got that way through hard work, a willingness to innovate, and constant attention to thinking about real world problems. I hope that we alums can keep this torch moving forward!" said Stephen Monismith, (CE BS '77, MS '79, PhD '83), Professor and Chair of Civil and Environmental Engineering at Stanford University and the son of inductee Carl Monismith, CEE Professor Emeritus.
Inductees, friends and family, event sponsors, CEE faculty and student leaders gathered in the University Club of the Memorial Stadium with its sweeping views of San Francisco Bay. 
Chancellor Birgeneau welcomed the guests with an inspired speech about the importance of alumni giving to the health of UC Berkeley. "CEE has helped you become the leaders that you are. Times have changed, and now CEE needs you," he said.
The guests listened to Advisory Council Chair David Friedman talk about the engineering challenges his firm, Forell/Elsesser Engineers, encountered during the stadium renovation.  
Friedman emphasized that several CEE faculty members were involved in the design of the seismic protection systems of Memorial Stadium, and praised the department's continued excellence in the field of earthquake engineering.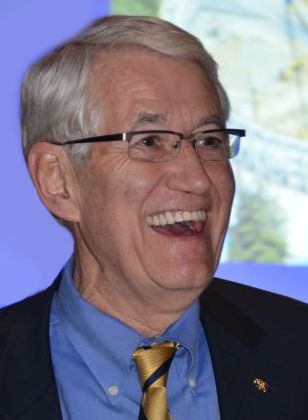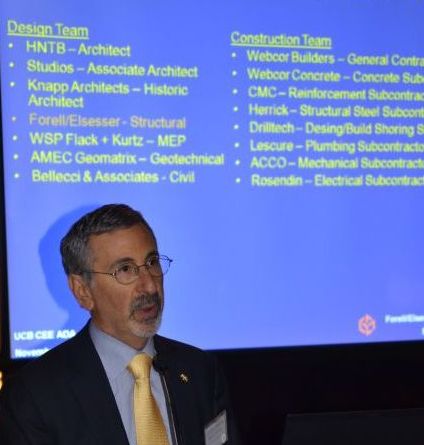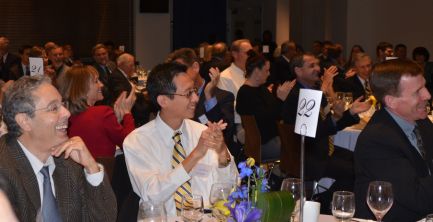 L-R: Chancellor Robert Birgeneau; David Friedman; banquet attendees in the stadium's Field Club
Afterwards, the capacity crowd of 250 dined in the stadium's Field Club while exchanging stories about inductees, or relating Berkeley stories of their own. Berkeley's all-female octet, the California Golden Overtones, provided entertainment, and Professor Emeritus Karl Pister presented a brief history of the CEE department.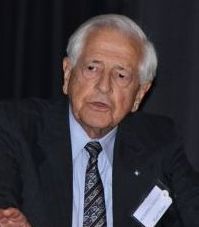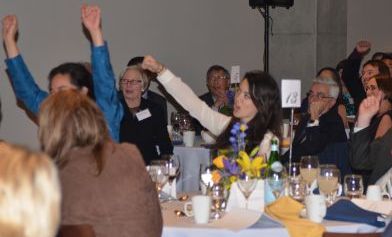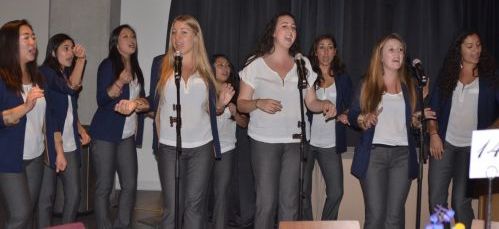 L-R: Karl Pister; attendees give a Go Bears cheer; the California Golden Overtones
Past CEE Chair Lisa Alvarez-Cohen read the accomplishments of each inductee as they came up to receive their citation from current CEE Chair Samer Madanat.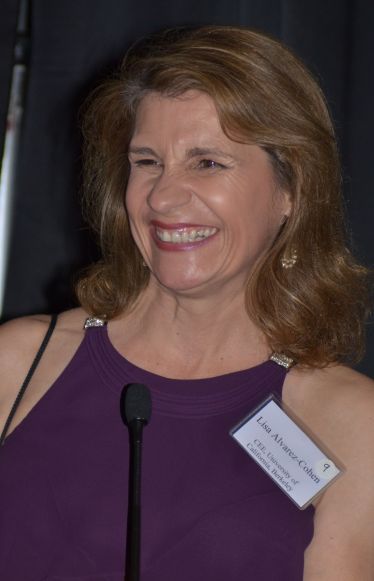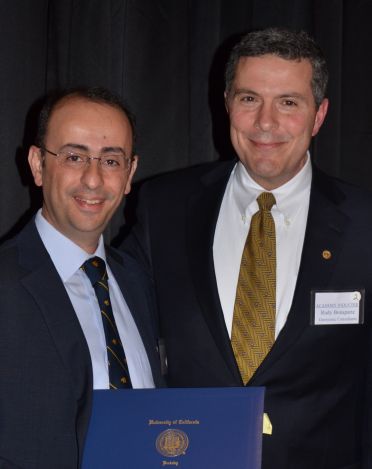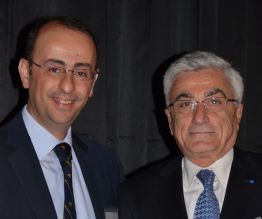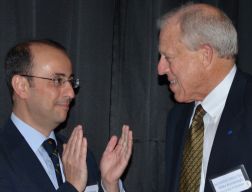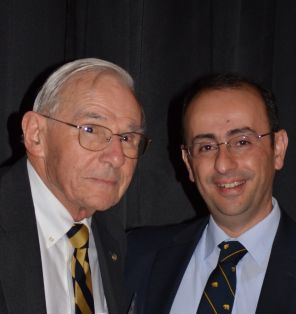 L-R: Lisa Alvarez-Cohen; Samer Madanat with inductees Rudy Bonaparte; Adib Kanafani; Michael Kavanaugh; Carl Monismith
"When I first joined the CEE faculty, a senior colleague told me that landing a faculty position at UC Berkeley was like winning the lottery," said Madanat as he introduced the induction ceremony. "I am reminded daily of how true this statement was, as I teach and mentor some incredibly talented students who become leaders in the profession and in academia. The highly accomplished members of this Inaugural Class of Distinguished Alumni are perfect examples of what our current students aspire to be in the future."
The evening included one sad note. One of the inductees, Dr. Awtar Singh, died of a heart attack on the drive up from southern California with his family. He passed away peacefully, but it was a terrible loss for his family and many others whose lives he had touched. Dr. Singh was known for always having students' interests at heart. One of his most notable philanthropic activities was his endowment of the Awtar and Teji Singh Fellowship in CEE, in honor of his late wife. Dr. Singh's nephew, Akash Malhotra, accepted the citation.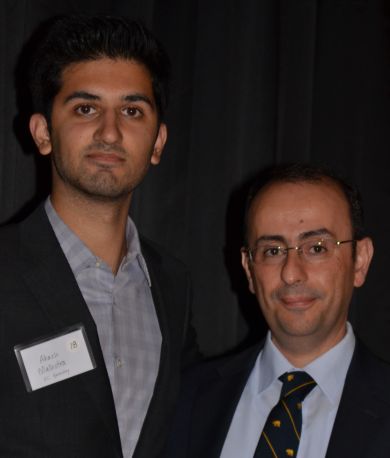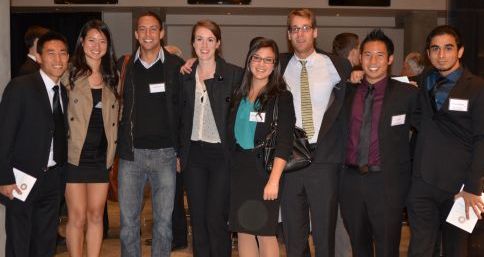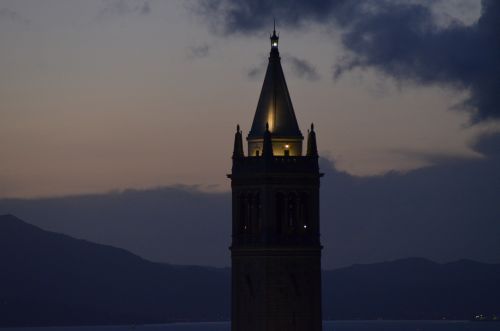 L-R: Akash Malhotra with Samer Madanat; CEE undergraduate leaders; the Campanile as seen from the California Memorial Stadium
The launch of the Academy would not have been successful without the generous support of the individuals and corporate sponsors listed below. Many of these corporate leaders have had their careers shaped by one or more individuals being honored. They came forward with enthusiastic support.
At the end of the night, one sentiment was unanimous: "We need to do this again."
Charter Class
(See Inductee Bios.)
Franklin J. Agardy, PhD, PE
Mihran S. Agbabian, PhD, NAE
Rudolph Bonaparte, PhD, PE, NAE
David Friedman, BSCE, PE, SE
Paul H. Gilbert, MSCE, PE, NAE
Richard E. Goodman, PhD, NAE
David I. Jenkins, PhD, NAE
Adib K. Kanafani, PhD, NAE
Richard W. Karn, BSCE, PE
Michael C. Kavanaugh, PhD, PE, NAE
James H. Kleinfelder, MSCE, PE
Richard G. Luthy, PhD, PE, NAE
James K. Mitchell, ScD, PE, NAE, NAS
Carl L. Monismith, MSCE, PE, NAE
Karl S. Pister, PhD, NAE
Leslie E. Robertson, BSCE, PE, SE, NAE
Awtar Singh, PhD, PE, GE
Robert L. Taylor, PhD, NAE
R. Rhodes Trussell, PhD, PE< NAE
James D. A. van Hoften, PhD
Robert P. Wadell, MSCE, PE
Robert L. Wiegel, MSME, DIST.D.CE, PE, NAE
Edward L. Wilson, DEng, NAE
Loring A. Willie, MSCE, PE, SE, NAE
Peter I. Yanev, MSCE
Victor A. Zayas, PhD, PE
Sponsors
Blue level ($6000)
| | |
| --- | --- |
| | |
| | |
| David Friedman & Paulette Meyer | Individual Sponsor |
| Mrs. Phyllis K. Friedman | Individual Sponsor |
| | |
| | |
| | |
Gold level ($3000)
| | |
| --- | --- |
| | |
| | |
| | |
| Adib & Karin Kanafani | Individual Sponsor |
| | |
| | |
| | |
| URS Corporation |   |
| Yanev Associates LLC | |
Silver level ($1500)
| | |
| --- | --- |
| | |
| Applied Science & Technology | |
| | |
| | |
| | |
| | |
| | |
| | |
| | |
| | |