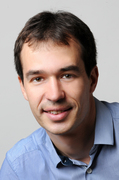 Alexey Pozdnukhov
An increasing pace of urbanization severely tests city infrastructure systems, and the field of transportation is responding to these global challenges by evolving at an ever-increasing pace.
"Novel mobility paradigms, enabled by IT and mobile computing, such as on-demand transportation, car/ride sharing and increasing multi-modality, contribute to a possible solution," says Alexey Pozdnukhov, CEE Assistant Professor working on Smarter Cities.
"But they also change the transportation landscape quicker than traditional data sources, such as travel surveys, are able to reflect."
As the influx of citizens and businesses to cities, volatility of job markets, evolving demographics and internal migration further increase the variability of the evolution of mobility demand patterns, it is more important than ever to be able to measure, realistically model and forecast travel demand in near real-time.
This is one of the reasons why the Smart Cities Center is investigating how new mobile technologies and the vast amount of new data they produce can help to understand mobility flows.
"Sensors and localization technologies have become ubiquitous over the past decade; mobility data has increasingly grown in volume," says Pozdnukhov. "The infrastructure is out there, the big data is out there, now it's time to be creative in the way we use it in our research."
The SmartBay Project
The Center has initiated the SmartBay project: a massive scale activity-based mobility micro-simulation model for the Bay Area.
In collaboration with AT&T Research Labs, a group of CEE students led by Pozdnukhov apply data mining and machine learning techniques to cell phone data and social networks signals to analyze and model the activities and travel habits of the citizens in the San Francisco Bay Area.
"I really like the spirit of this project," says Pozdnukhov. "We use Open Data from public transportation operators, traditional travel surveys, crowd-sourced data from Open Street Map and social media, the dedicated transportation sensing infrastructure, and anonymized cell phone data."
"This would not have been even possible just a few years ago, and now there is enough data out there to calibrate and validate our models in a very rigorous way."
The group started with modeling a typical weekday in the Bay. Their models are behavioral and are deeply rooted in understanding individual travel decisions. The hope is that the models can be used to simulate scenarios that go far beyond what is typical.
Most urban systems nowadays operate at the capacity for which they have been designed.
"It is critical to have very detailed data and accurate predictive models to support cities' decision-making in planning and operations," says Pozdnukhov.
by Alexey Pozdnukhov
Assistant Professor
CEE Systems Engineering &
Transportation Engineering