Imagine
Imagine you are driving home when you notice some dirty-looking water coming from a leaking pipe in your neighborhood. You worry that this leak could be polluting the environment, and might even be making its way into your water supply. Would you know who to report the situation to, and how to report it?
Now imagine
Now imagine you could pull out your smartphone and take a GPS-tagged photo of the leak, add some notes, and upload your report to an online map.
Environmental managers could use the map to look at water quality measurements near the leak and determine the environmental sensitivity of the area. With all of this information at their fingertips, they could quickly make a plan to fix it.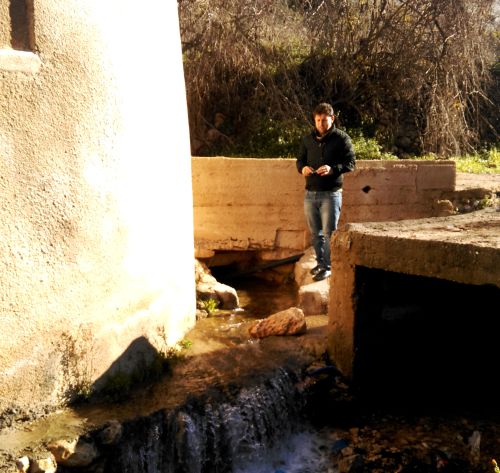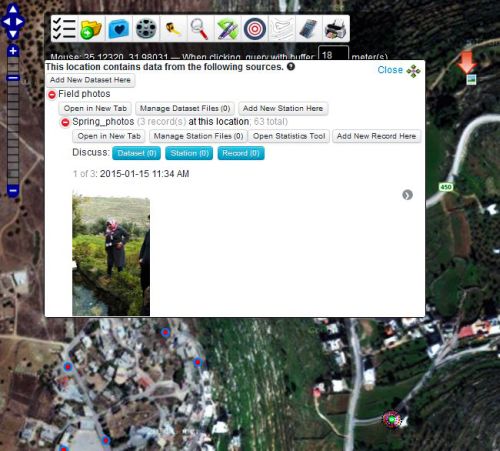 [AT LEFT} Hassan Jebreen takes notes on his smartphone during a field trip in Ein Ariq. These notes will be synced to the online map when he connects to WiFi. [AT RIGHT) After field work in Beitillu, GPS-tagged photos and notes collected on a smartphone are synced to the online interactive map.
Low cost tool with real impact on water management
This is the type of community-based environmental management that CEE Professor Yoram Rubin and Professor Marwan Ghanem from Birzeit University envision for their project in the Palestinian West Bank.
"We are interested in creating a low-cost scientific tool that has a real impact on water management," says Ghanem. "In our experience, scarce data is one of the greatest challenges facing environmental managers, so we decided to focus on making a wide array of information as accessible as possible."
The Rubin/Ghanem collaboration got off the ground with funding from the Al-Falah Fund for Science and Technology to create a pilot-scale system in the Natuf Basin near Ramallah.

They started by creating an online map of water quality data on the environmental information management system myObservatory. The map allows users to click on important natural springs to see chemical and microbiological measurements, and to use these measurements in statistical analyses.

Then they conducted a groundwater vulnerability assessment, which maps the susceptibility of the groundwater supply to contamination based on characteristics like soil and rock types. Together, water quality data and vulnerability can be used to make decisions about water resources and plan future research projects.

When Jon Sege, the research specialist working with Rubin, traveled to the West Bank in January 2015, it became apparent that interest in the online water management system could go much further than to be used by academics and policy-makers.
A tool in the hands of the community
Sege and Hanadi Bader, a Master's student in Professor Ghanem's group, were studying a spring in the community of Beitillu when a man in muddy boots and overalls approached and insisted that they follow him.
He led them to 2 deep sets of tire tracks beside a dirt road. He explained that a truck collecting waste from cesspits in the town had been dumping its contents illegally, just above a spring.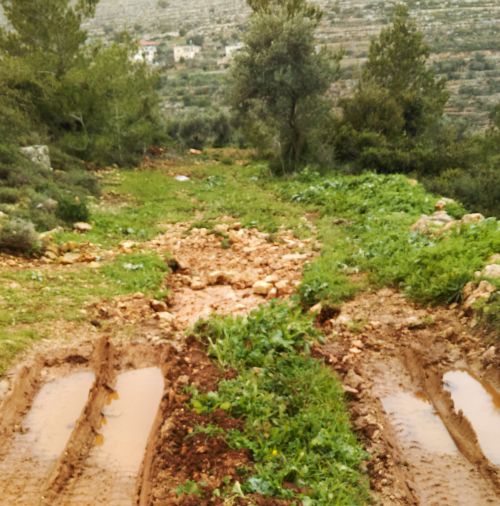 A farmer in Beitillu was adamant to show Jon Sege this environmental hazard, where the town's cesspit collection truck dumps its contents illegally on the hillside. In the future, the farmer will be able to report directly to the online map using his smartphone or computer.
"I was shocked by his determination to report this environmental threat," says Sege. "Imagine how much better it would be if he, and others like him, could report these things directly to water managers, rather than waiting for some researchers to happen through."

The team quickly realized that community-based environmental monitoring could be a great way for people to take control of their local resources.
By getting community members involved in collecting data and reporting violations using smartphones and computers, environmental managers could gather much more information than a handful of field researchers ever could.
A tool that monitors environmental systems besides water
The project expanded yet again when the team and community members saw that monitoring needn't be limited to water but could be used for other systems such as agriculture and health care. Exciting meetings with the Palestinian Ministry of Agriculture and health care professionals followed.
"In the next phases of our work, we are going to focus on creating a broad-based environmental management system for the whole West Bank," explained Rubin.
"We want to empower people at all levels, from schoolchildren to government ministers, to learn about the world around them, and to use that knowledge to create healthy environments."
Article contributors: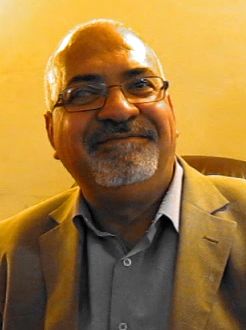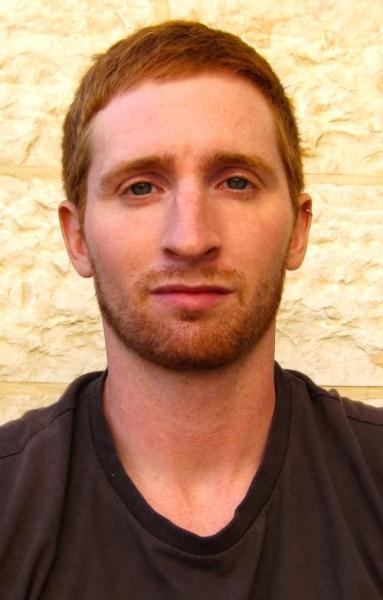 [L-R] Yoram Rubin, Marwan Ghanem, Jon Sege