On Oct. 8, the CEE Academy of Distinguished Alumni inducted the 10 members of its 2015 class. Established in 2012, the ADA honors the professional achievements and the commitment to service of CEE alumni. 
The induction took place at the 4th annual ADA banquet. Against a spectacular Berkeley sunset at the California Memorial Stadium, alumni, faculty, students, event supporters plus families and friends gathered to celebrate the honorees and share connections with the department and with each other. (See program.)

"Our alumni make us proud, not only through their leadership and accomplishments, but also because of the many ways that they serve societal needs," said CEE Chair Robert Harley.
The honorees
Class of 2015 inductees were Larry Russell, Eleanor Allen, Y.R. (Joe) Rashid, Marwan Nader, Denny Parker, Uri Eliahu, Glenn Bell, Reginald DesRoches
Class of 2015 In Memoriam inductees were Egor Popov and Barney Vallerga.
The banquet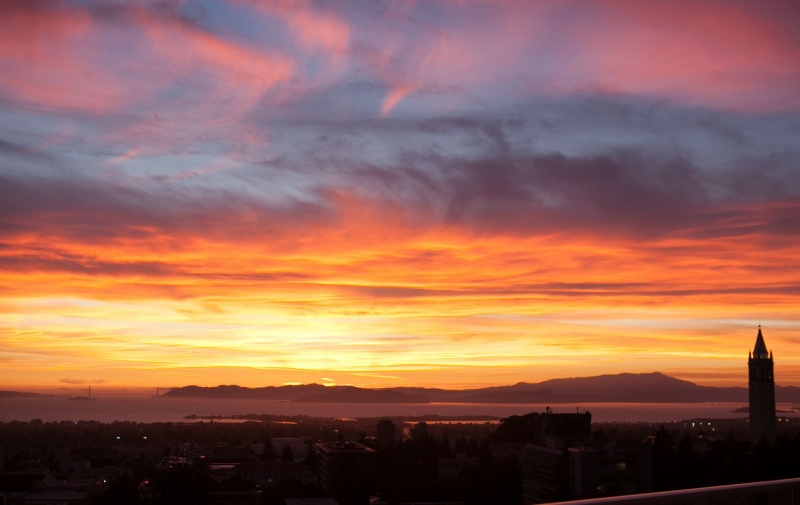 Throughout the evening, people talked of their pride in the department and in what civil and environmental engineers do to make people's lives better around the world.  "Everyone feels it. There is something special about CEE at Berkeley," said Dr. Rudolph Bonaparte, ADA board chair.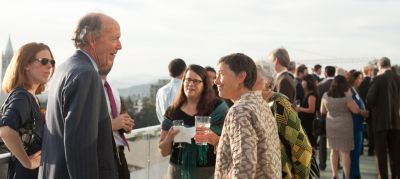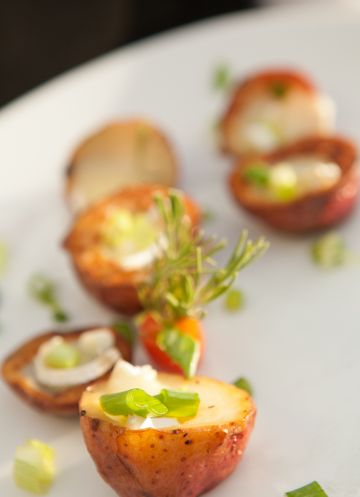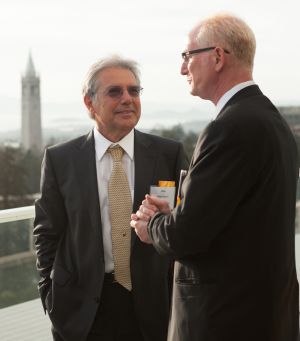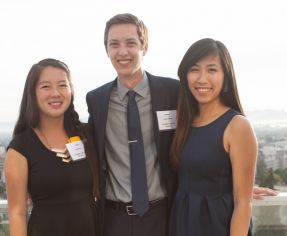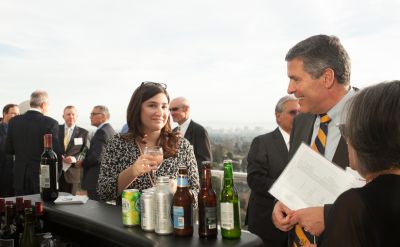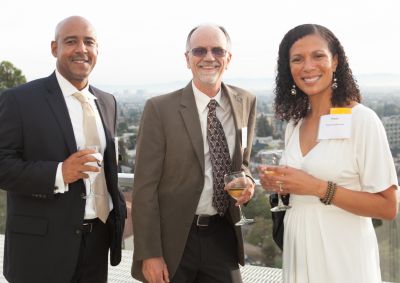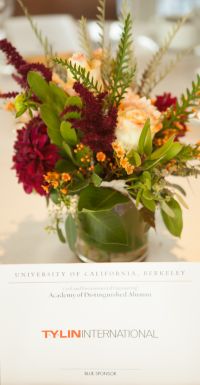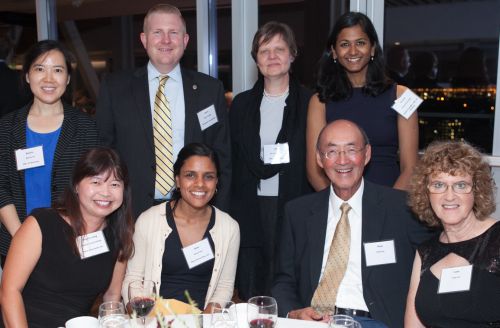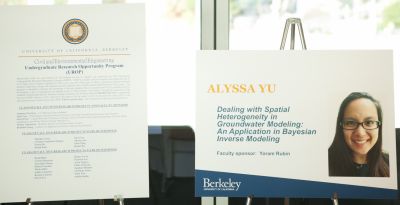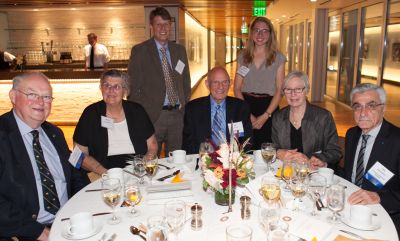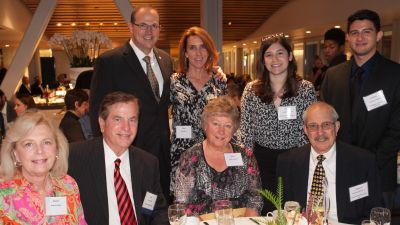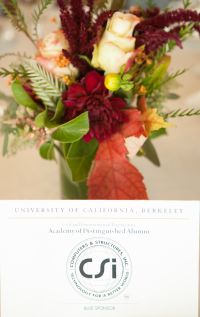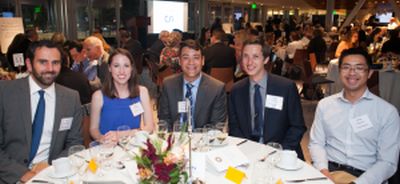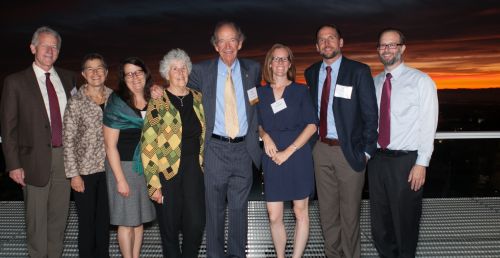 Honoring the Class of 2015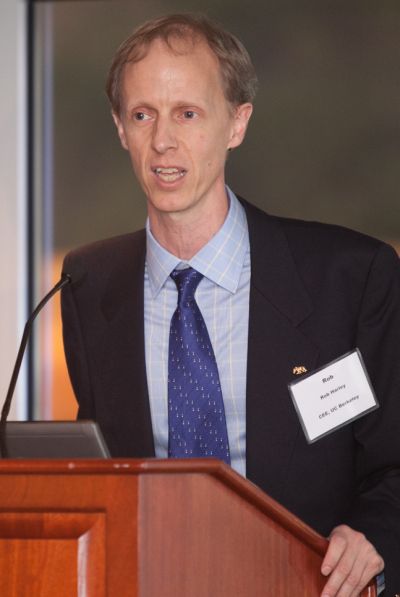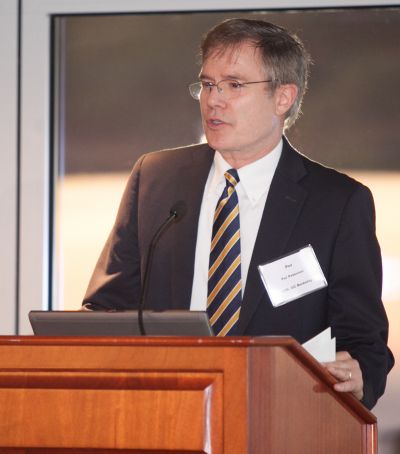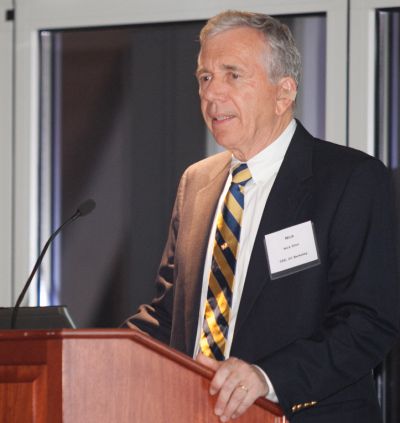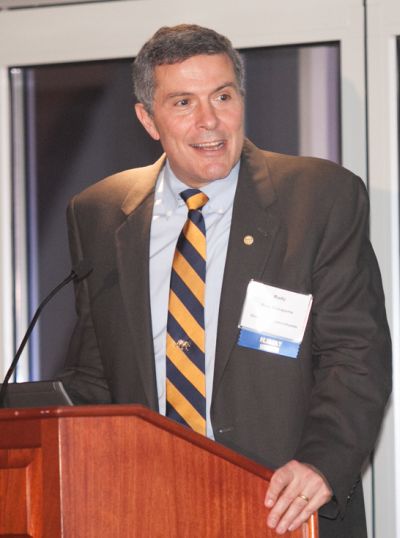 L-R: Chair Robert Harley and Associate Dean Per Peterson welcomed everyone to the 4th annual banquet. Professor Nicholas Sitar thanked the generous sponsors whose support makes the banquet the talked-about event that it is each year.
Dr. Rudolph Bonaparte highlighted the accomplishments of the inductees as they accepted their citations.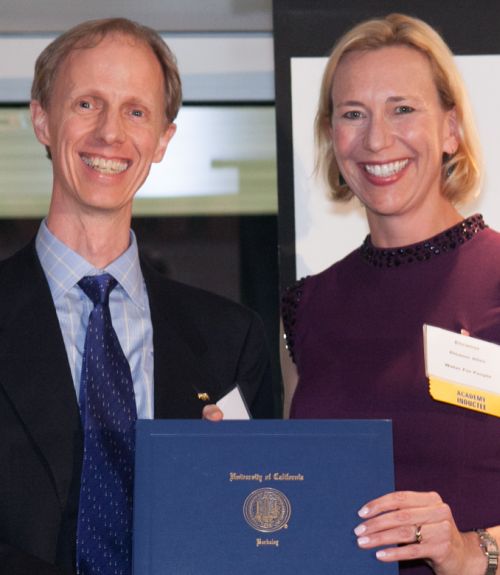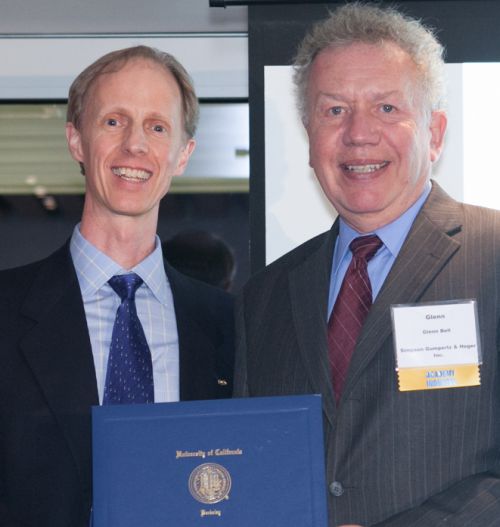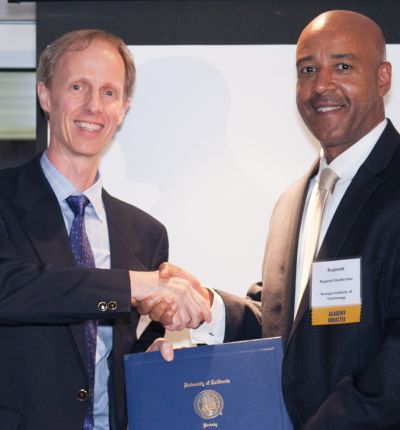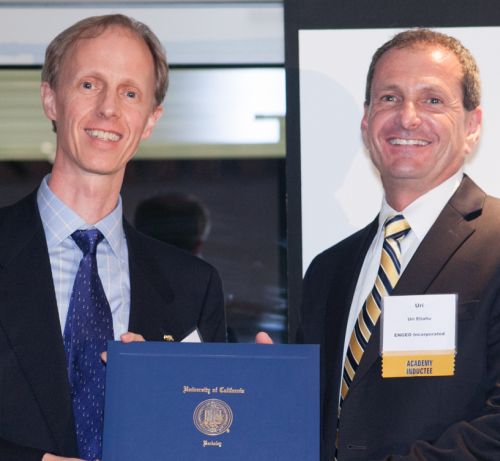 L-R: Eleanor Allen, Glenn Bell, Reginald DesRoches, and Uri Eliahu accept citations.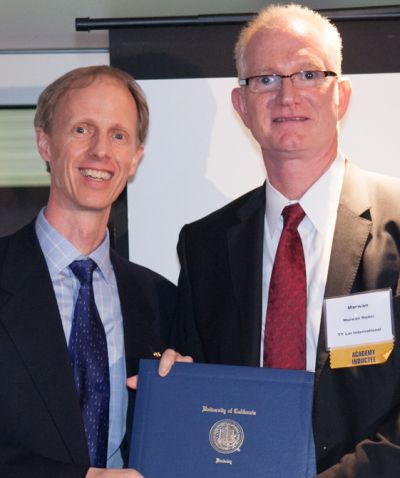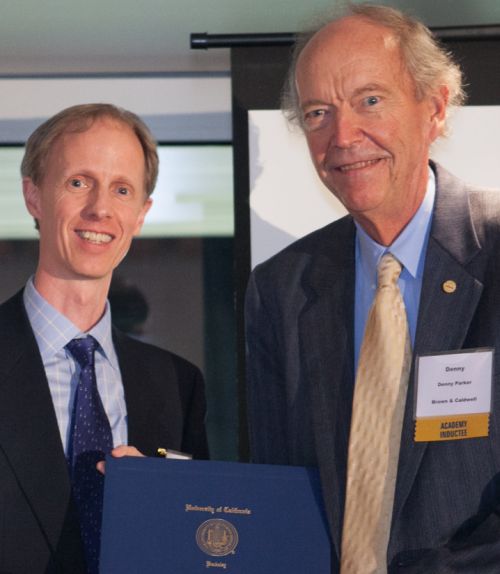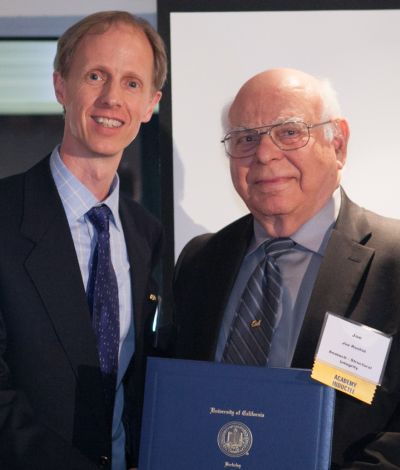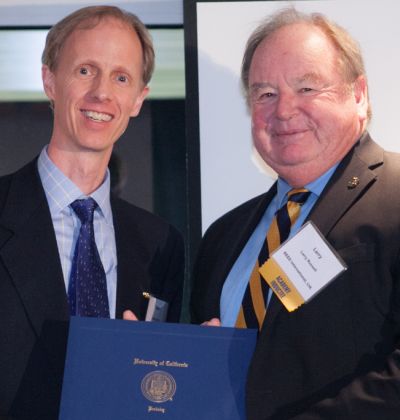 L-R: Marwan Nader, Denny Parker, Y.R. (Joe) Rashid, and Larry Russell accept citations.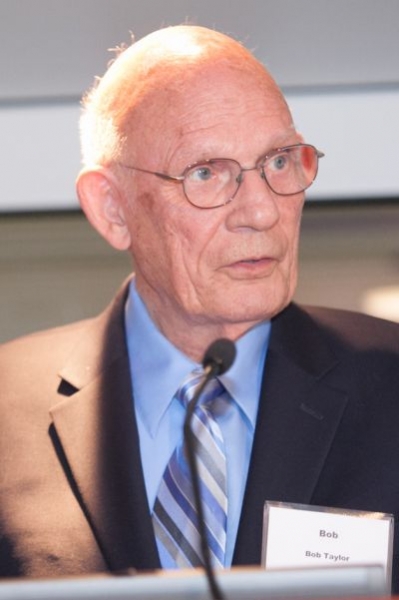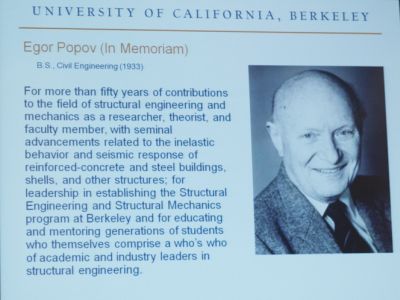 In Memoriam inductee Egor Popov was honored with reflections on his career by Robert Taylor, Professor Emeritus and ADA member. Taylor's reflections included those of Karl Pister, Professor Emeritus and ADA member, who could not be present.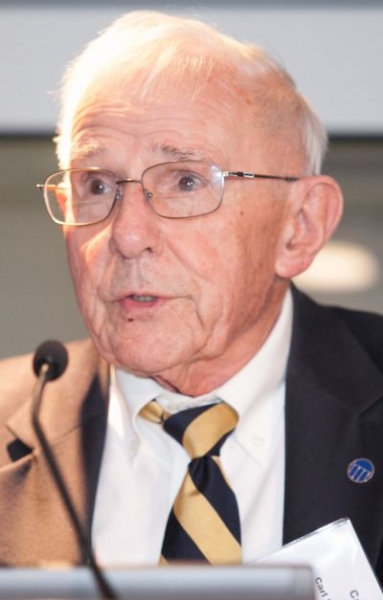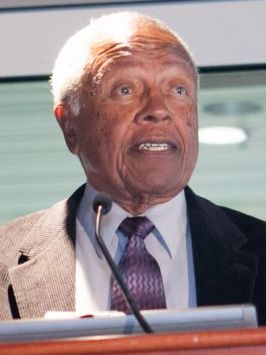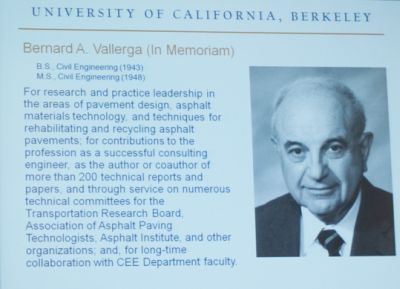 ADA members, Professor Emeritus Carl Monismith and Jefferson Hilliard reflected on the career of Barney Vallerga.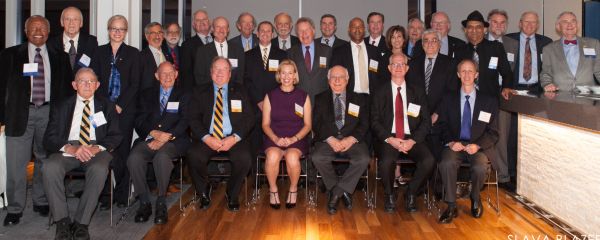 All Academy members present at the banquet. Seated L-R: Carl Monismith, Robert Taylor, Larry Russell, Eleanor Allen, Y.R. (Joe) Rashid, Marwan Nader, Robert Harley. Standing L-R: Jefferson Hilliard, David Jenkins, Elizabeth Hausler Strand, David Friedman, Jim Becker, James van Hoften, Robin McGuire, Denny Parker, Uri Eliahu, Rhodes Trussell, Glenn Bell, Rudolph Bonaparte, Reginald DesRoches, Robert Wadell, Susan Hubbard, Edward Wilson, Adib Kanafani, Loring Wyllie, Ashraf Habibullah, Stephen Monismith, Michael Kavanaugh, John Koon. See ADA members' bios.
All photos courtesy of Slava Blazer.
Sponsors (individual and corporate)
Many generous corporate and individual friends of CEE came forward to support the Academy's 2015 class and CEE's Undergraduate Research Opportunity Program (UROP).

Through the generosity of the ADA membership and the banquet sponsors, the ADA donated $25,000 each year to support the first two UROP cohorts in 2013 and 2014.  In the past two years, 50% of the sponsorship money raised has gone to UROP.
BLUE LEVEL ($6000)
| | |
| --- | --- |
| Rudolph & Anna Bonaparte | Individual Sponsor |
| David Friedman & Paulette Meyer | Individual Sponsor |
| | |
| | |
| | |
| | |
| | |
GOLD LEVEL ($3000)
| | |
| --- | --- |
| Y. R. (Joe) & Janice M. Rashid | Individual Sponsor |
| | |
| | |
| | |
| | |
SILVER LEVEL ($1500)
| | |
| --- | --- |
| Professor Robert Harley | Individual Sponsor |
| Michael C. Kavanaugh & Carol James | Individual Sponsor |
| John H. & Junith Koon | Individual Sponsor |
| Susan Leal & Susan Hirsch | Individual Sponsor |
| Professor & Mrs. Robert L. Taylor | Individual Sponsor |
| | |
| | |
| | |
| | |
Additional Contributions