This past spring, the Berkeley Seismic Design Team, Cal Seismic, once again competed in the Undergraduate Seismic Design Competition at the Earthquake Engineering Research Institute's annual meeting in Portland, Oregon.
Out of 33 teams, Cal Seismic's five-foot-tall balsa wood tower, Praeluceo, placed 4th overall.
"Despite the challenge of having one less month of preparation time and some last-minute rule changes at the competition, we performed exceptionally well," says Judy Guo, Co-Project Manager, "Four of our team members did excellently in their presentation on Praeluceo, and with how they fielded the questions from the judging panel."
The team's big win this year, however, was taking home the Spirit of the Competition Award.  The Spirit Award recognizes the school that goes beyond the expectations of the competition. It is an honor to receive this award because the winner is selected by their competition peers.
Indeed, the 29 Cal Seismic members showed their magnanimous nature when they assisted two other teams whose buildings were damaged during shipping. Transporting a fragile tower with hundreds of small connections across the country is no easy task. Many first-time teams arrived in Portland to find their towers severely damaged. But the Berkeley team had brought a lot of spare wooden pieces, glue, and tools, and offered help to any team that needed it.
"We wanted competition to be an enjoyable and educational experience for everyone involved," says Guo, "Our team members were more than willing to go out of their way to offer advice and friendship to the other teams."
Sharing construction horror stories
On the evening before shake day, Cal Seismic gathered on the floor of the hotel lobby to eat dinner with the University of Toronto team. The two teams exchanged model-building stories while teaching each other their school spirit songs.
"We told hem how, on the day before the tower was scheduled to ship out for Portland, our Construction Managers discovered that the levels of the floors were off by just 1/4th inch. The amount was not noticeable to the naked eye but was just enough to get the tower disqualified," says Guo.
"We called an emergency meeting to carefully extract the tower from the base plate it was epoxied in, trim the columns at the base, and reattach it to a new base plate. In an amazing show of comradery, more than ten people showed up and stayed to work until 2 am."
Over 100 person-hours were logged and two pounds of microwavable chicken nuggets consumed that night alone.
With a 40-page rule book, it's almost impossible not to make a mistake along the way.
Team goal: compete, educate
Since school began last August, Cal Seismic has been designing an optimal structure, one that was both lightweight yet robust enough to withstand the ground motion simulations on the shake table. 
The final tower, Praeluceo, was designed to incorporate an open atrium through the first three floors as well as accommodate extra loading at the top floor for a green roof in accordance with this year's rules.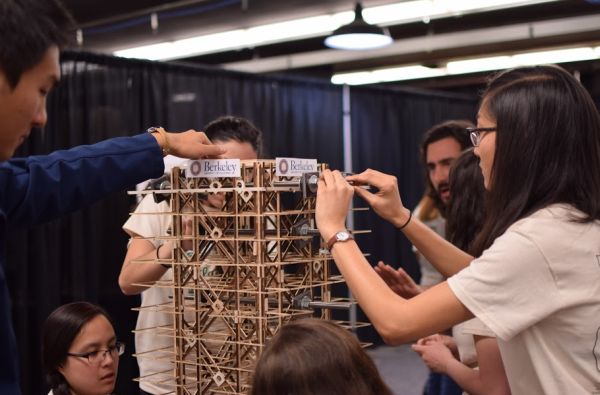 Team members put finishing touches on Praeluceo.

Co-Project Managers Guo and Mairead Montague led an army of 50+ team members in two-semester-long student-organized DeCal courses with a twofold goal of preparing for the spring competition and promoting earthquake engineering learning among Berkeley undergraduate students.
"CEE's undergraduate curriculum doesn't include formal earthquake engineering courses. The DeCal helps provide an introduction to the field for interested students," says Henry Teng, Analysis Lead.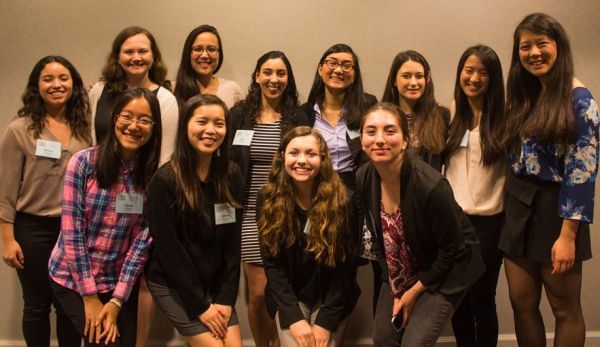 Cal Seismic female team members. Women made up half of the team and held the majority of the officers positions.
 
Many came together to support the team
Berkeley faculty, staff, graduate students, and research scientists came forward to broaden and deepen the team's educational purpose.
"Professor Filip Filippou was always willing to meet with us to discuss any issues we had," says Monica Liu, Analysis Lead, "He would often stay late in Davis Hall just to critique our presentation."
The team was also supported by the Pacific Earthquake Engineering Research Center (PEER) and Philip Wong, CEE staff electrical engineer.  And students spent long hours in the soils lab with Adjunct Professor Michael Riemer.


Cal Seismic with entry, Praeluceo
 
Cal Seismic's fantastic track record every year is a testament to the enthusiasm its members have for the competition, but even more importantly, for the structural and earthquake engineering field.
Junior Stella Te, Construction Manager, says, "Our team has been amazingly devoted—willing to spend extra hours ensuring our model has the highest quality construction possible.
"As I take more structural engineering classes, the lectures are even more relevant because I relate them to what I have learned from the team."

With the competition done, senior members end their year by teaching newer members lessons on special topics, such as SAP2000 analysis. New officers have been elected, and with the momentum from this tremendous past year, all eyes are on the future of the Cal Seismic Design Team.
"I am immensely proud of the hard work and positive attitude our team has had throughout the year and during the competition," says Guo.

The team would like to thank all of its sponsors, Computer Sciences, Inc., David Friedman, and the ASCE Joint Fundraising Committee, as well as all of their supporters for their generous assistance and guidance.