Academy of Distinguished Alumni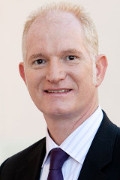 Marwan Nader Ph.D., P.E.
Inducted to the Academy of Distinguished Alumni on
Marwan Nader received his Ph.D. (1992) degree in Civil (Structural) Engineering from the University of California, Berkeley.  He also received his B.Eng. (1986) degree in Civil Engineering from the American University of Beirut. Since completing a post-doctoral research program at Berkeley in 1993, he has been employed by T.Y. Lin International, rising to the position of Senior Vice President and Technical Director, for the Bridge Line of Business. Dr. Nader is also a member of the Board of Directors.
Dr. Nader has more than 25 years of experience in all phases of bridge design and construction engineering.  He has led design teams in the development of plans, specifications, and cost estimates on both new and retrofit bridge projects. He has experience with suspension, cable-stayed, segmental, arch, composite, and steel bridges. Among his notable projects, Dr. Nader served as engineer-of-record for the design of the new East Span for the San Francisco-Oakland Bay Bridge, a steel-box girder, single steel tower, self-anchored suspension span. He led design development of the single tower's innovative shear links, which, during an earthquake, serve to protect the four shafts that comprise the tower. He was the design team leader for the seismic retrofit of the Golden Gate Bridge, the first of its kind retrofit for a major suspension bridge. He has also served as project manager, design lead, or independent checker on major international bridge projects, including: Soyo-Cabinda Transportation Link Suspension Bridge (Angola); Bandra-Worli Concrete Cable-Stayed Bridge (India); I-395 Corridor Signature Structure and Approach Viaducts (Miami); Chesapeake Bay Bridge Cable Dehumidification System (MD); Wadi Abdoun S-Curve Cable-Stayed Bridge (Jordan); and San Diego - Coronado Bay Bridge Seismic Retrofit (CA).
Among his honors, Dr. Nader was selected for the 2014 Distinguished Alumni of the Year Award, Civil Engineering, by the American University of Beirut and the 2014 Award of Merit, ACEC of California. He was also the recipient of the 2004 Arthur M. Wellington Prize from the American Society of Civil Engineers. He has been a strong supporter of Berkeley CEE. He presently serves as a member of the CEE Advisory Council, he has participated in Cal Day on the Berkeley campus at the request of the CEE Department, and he is a frequent invited speaker to CEE students.