Academy of Distinguished Alumni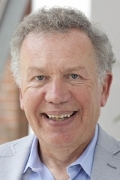 Glenn R. Bell M.S., P.E., S.E.
Inducted to the Academy of Distinguished Alumni on
Glenn R. Bell received his M.S. (1975) degree in Civil (Structural Engineering and Structural Mechanics) from the University of California, Berkeley.  He also received his B.S. (1974) degree in Civil Engineering from Tufts University.
Mr. Bell has been CEO of Simpson Gumpertz & Heger (SGH) since 1995, during which time SGH has grown into one of the nation's leading structural engineering and consulting firms with more than 500 employees in offices in six major U.S. metropolitan areas. Under his leadership, SGH is often cited for its innovation, industry leadership, and reputation for being a great place to work. Mr. Bell has spent his entire career at SGH, since his graduation from Berkeley in 1975.

In his technical career, Mr. Bell has had design responsibility for a number of noteworthy, groundbreaking structures. These include: World Trade Center, National Museum at Ground Zero - design of subsurface slurry wall earth support system (NY); Walt Disney World, Epcot Center - Project Manager for Spaceship Earth, a 160-foot diameter geodesic sphere (FL); Simmons Hall, Massachusetts Institute of Technology - structural and building envelope design for iconic campus structure (MA); and Baha'i Temple - structural and building envelope design (Chile).

In recognition of his accomplishments, Mr. Bell has received a number of noteworthy awards and honors, including: Popert Fellowship, University of California, Berkeley, 1974; Distinguished Service Award, Tufts University, Department of Civil Engineering, 2003; Outstanding Achievement Award, Tufts University Department of Civil Engineering, 2008; Honorary Centennial Fellow, Penn State University, 2010; and Eminent Professionals Fellowship, Institute of Structural Engineers (UK), 2013. He is also the 2014 recipient of American Society of Civil Engineers (ASCE) Edmund Friedman Professional Achievement Award for outstanding contributions to the status of the civil engineering profession. In addition, he was a co-founder of the ASCE Technical Council on Forensic Engineering, whose mission is to improve professional practice through learning from engineering failures.
Mr. Bell has been a long-time supporter of the Berkeley CEE Department. He previously served on the CEE Advisory Council and he has been a CEE guest lecturer to the structural engineering program.