Academy of Distinguished Alumni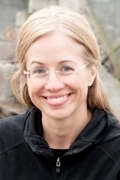 Elizabeth Hausler Ph.D.
Inducted to the Academy of Distinguished Alumni on
Elizabeth Hausler received her M.S. (1998) and Ph.D. (2002) degrees in Civil and Environmental (Geotechnical) Engineering from the University of California, Berkeley.  She also received a B.S. (1991) degree in Engineering from the University of Illinois, Urbana – Champaign and an M.S. (1995) degree in Environmental Science from the University of Colorado, Denver.  In 2002 and 2003, she was a Fulbright Fellow at the Indian Institute of Technology in Bombay, India.  In 2004, she founded the non-profit organization Build Change, where she has served as CEO ever since.  Earlier in her career, she held positions at several engineering consulting firms and, for seven years in high school and college, she worked in her family's business as a brick mason.
As CEO of Build Change, Dr. Hausler leads an international non-profit social enterprise based in Denver, Colorado with operations in Indonesia, China, Haiti, Colombia, Guatemala and the Philippines.  Build Change designs earthquake-resistant houses and schools and trains builders, homeowners, engineers, and government officials to build them.  Collaborating with the public and private sectors, Build Change works in seismically-active, economically-distressed areas to create permanent change with respect to residential earthquake-resistant engineering construction practices.  The vision for Build Change is that:  (1) all houses and schools built with inputs from Build Change are resistant to earthquakes and other natural disasters; and (2) building codes are better followed and enforced and construction practices are permanently improved as a result of the educational and empowering contributions of Build Change's staff.  More than 200,000 people live in safer houses as a result of the work of Build Change.
Dr. Hausler was named a 2011 US Social Entrepreneur of the Year by the Schwab Foundation.  She is the winner of the 2011 Lemelson-MIT Award for Sustainability.  She is also a 2004 Echoing Green Fellow, a 2006 Draper Richards Kaplan Fellow, and a 2009 Ashoka-Lemelson Fellow.  Dr. Hausler was a panelist at the 2010 Annual Meeting of the Clinton Global Initiative, and a member of the 2007 cohort of the Global Social Benefit Incubator Program at Santa Clara University.   
Dr. Hausler and Build Change have been featured in reports by ABC News, the BBC, Fast Company, the Huffington Post, MSNBC, National Geographic, the New York Times, NPR's All Things Considered, and numerous international newspapers.  Her work was also featured in the spring 2009 edition of the Berkeley College of Engineering magazine, Forefront.