Academy of Distinguished Alumni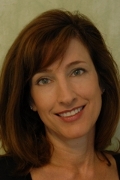 Susan S. Hubbard Ph.D., N.A.E.
Inducted to the Academy of Distinguished Alumni on
Susan S. Hubbard received her Ph.D. (1998) degree in Civil and Environmental (Water Resources) Engineering (CEE) from the University of California, Berkeley.  She also received a B.S. (1985) degree in Geology from the University of California, Santa Barbara and an M.S. (1990) degree in Geophysics from Virginia Tech.  Since 1998, she has been with the Earth Sciences Division of Lawrence Berkeley National Laboratory, rising through the positions of Staff Scientist, Senior Scientist, and Deputy Director.  In 2013, Dr. Hubbard was appointed Director of the Earth Sciences Division.  Earlier in her career, she held positions with the U.S. Geological Survey and as an exploration geophysicist at a major oil company.
Dr. Hubbard has made seminal contributions to the understanding of terrestrial system functioning, with a focus on the use of geophysical methods for shallow subsurface characterization and monitoring and the use of integrated datasets to investigate environmental problems.  She is the author or coauthor of more than 100 published papers.  She has substantially contributed to the development of two new subdisciplines of geophysics (hydrogeophysics and biogeophysics).  Her work has led to an improved understanding of how complex hydrological and biogeochemical processes occur in the subsurface environment, over length scales from centimeters to kilometers, and in several different types of terrestrial environments, including contaminated sites, agricultural lands, and Arctic ecosystems.
Dr. Hubbard has served as Associate Editor of the Journal of Hydrology and as Co-Editor of the Vadose Zone Journal.  She is presently Associate Editor for the Journal of Geophysical Research:  Biogeosciences.  She has been widely recognized for her professional contributions, including being named in 2011 as a Fellow of the Geological Society of America (GSA), selected as the 2010 GSA Birdsall-Dreiss Distinguished Lecturer, and chosen for the 2009 Frank Frischknecht Leadership Award by the Near Surface Geophysics Section of the Society of Exploration Geophysicists. Dr. Hubbard was elected to the National Academy of Engineering (NAE) in 2020.
Dr. Hubbard has been an active supporter of the Berkeley CEE Department.  Since 2007, she has served as an Associate Director of the Berkeley Water Center, where she has been an advisor to several CEE graduate students. She is also a frequent collaborator with CEE faculty.