Academy of Distinguished Alumni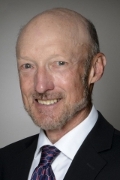 Robin K. McGuire Ph.D., P.E., N.A.E.
Inducted to the Academy of Distinguished Alumni on
Robin K. McGuire received his M.S. (1969) degree in Civil Engineering (Structural) from the University of California, Berkeley.  He also received his S.B. (1968) degree in Civil Engineering and Ph.D. (1974) degree in Structural Engineering, both from the Massachusetts Institute of Technology.  In 1984, he founded Risk Engineering, Inc., an international leader in the development of extensively used software for probabilistic seismic hazard analysis and in consulting on hazard and reliability analyses related to natural forces (earthquake shaking, wind and wave loads, storm surge).  Dr. McGuire served as President of Risk Engineering from its founding until it merged with Fugro William Lettis & Associates in 2008, where he was a Principal from 2008-2012.  Since 2012, he has been a Senior Principal at Lettis Consultants International, Inc.  Early in his career, he did engineering work as a Commissioned Corps officer of the U.S. Public Health Service, as a structural engineer with the U.S. Geological Survey, and as a registered engineer with several consulting engineering firms. Dr. McGuire is currently a Professional Engineer in Colorado.
Dr. McGuire has long been recognized as an international leader in the practice of seismic hazard evaluation and risk analysis.  He is the author of the industry standard Seismic Hazard and Risk Analysis, an Earthquake Engineering Research Institute (EERI) monograph that has been translated into the Persian language.  He has been the technical director of major projects to estimate engineering design levels and damage to engineered facilities (including power plants, bridges, dams, and commercial structures) subjected to natural forces induced by earthquakes, hurricanes, and tornados.  These projects have included applications in 35 foreign countries.  He has also led projects to estimate combined losses to portfolios of properties, accounting for correlation of forces in space and for correlation of structural fragility among similarly designed or constructed facilities.  He has authored or co-authored more than 100 technical papers and articles on these topics, many in peer-reviewed journals, and several regulatory documents for the U.S. Nuclear Regulatory Committee.  During his career, Dr. McGuire has served on committees of the U.S. National Research Council, including the Committee on Seismology and the Committee on Induced Seismicity Potential in Energy Technologies.
Among his honors, Dr. McGuire was selected by the Seismological Society of America (SSA) to present the 2009 William B. Joyner Memorial Lecture, and was elected in 2007 to the National Academy of Engineering.  He is a former President and Board Director of SSA, and he has served on the EERI Board of Directors.  Dr. McGuire is a long-time supporter of the Berkeley College of Engineering.