Academy of Distinguished Alumni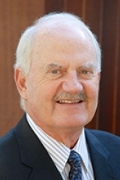 James D. A. van Hoften Ph.D.
Inducted to the Academy of Distinguished Alumni on
James van Hoften received his B.S. (1966) degree in Civil Engineering from the University of California, Berkeley, and his M.S. (1968) and Ph.D. (1976) degrees in Civil Engineering (Hydraulics and Fluid Mechanics) from Colorado State University where he studied as a National Science Foundation Graduate Research Fellow.  Dr. van Hoften is currently on the Board of Directors of Gatwick Airport in the United Kingdom and is on the Senior Advisors Board of Global Infrastructure Partners in New York.  He was previously on the Boards of Opti-Canada in Calgary and FlexLNG in London. 
Prior to his retirement in 2006, Dr. van Hoften spent 20 years as a Senior Vice President and Partner of the Bechtel Corporation.  His last position in London was as Managing Director of the global airport design and construction business. He was responsible for the management of major airport development programs in the Middle East, Japan, and North and South America.  In the early 1990's, he was the program manager for the $23 billion Hong Kong Airport Core Program, including the new Hong Kong Airport.   While he was an Assistant Professor at the University of Houston in Civil Engineering in 1978, he applied and was accepted for the first class of NASA's Space Shuttle Astronauts. Thirty-five astronaut candidates were chosen from over 6,000 applicants. Dr. van Hoften spent eight years as a NASA Astronaut. During his two flights on the space shuttles Challenger and Discovery he performed four space walks to repair disabled satellites. From 1969 until 1974, he served a Navy Fighter Pilot and made two cruises to Viet Nam. 
Dr. van Hoften is a Fellow in the American Institute of Aeronautics and Astronautics (AIAA), serving as a Board member for six years.  He has served on the Corporate Advisory Board for ASCE's Civil Engineering Research Foundation and on the U.S. Department of Transportation Commercial Space Transportation Advisory Committee (COMSTAC).  He is the recipient of numerous awards and commendations including Distinguished Engineering Alumni Award from both U.C. Berkeley and Colorado State University.   Dr. van Hoften has been a long-time supporter of Berkeley, the College of Engineering, and the Department of Civil and Environmental Engineering (CEE).   He served on the Board of Directors of the Engineering Alumni Society and he was a founding member of the CEE Advisory Council.  He is currently on the Board of Directors of the Berkeley Engineering Foundation and has been Chair of its Annual Fund for more than 15 years.   He has served on the Board of Trustees of the U.C. Berkeley Foundation since 2005.