Academy of Distinguished Alumni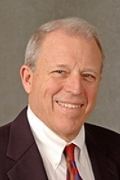 Michael C. Kavanaugh Ph.D., P.E., N.A.E.
Inducted to the Academy of Distinguished Alumni on
Michael C. Kavanaugh received his Ph.D. (1974) degree in Civil (Environmental) Engineering and M.S. (1964) degree in Chemical Engineering from the University of California, Berkeley. He also received his B.S. (1962) degree in Chemical Engineering from Stanford University.   Dr. Kavanaugh is a Registered Chemical Engineer in California and a Board Certified Environmental Engineer (BCEE) by the American Academy of Environmental Engineers.  He is also a Consulting Professor of Environmental Engineering in the Department of Civil and Environmental Engineering (CEE) at Stanford.                                                                                     
Dr. Kavanaugh is currently a Senior Principal with Geosyntec Consultants, Inc.  He has over 39 years of consulting experience, providing a broad range of consulting services to private and public sector clients worldwide.  He has authored or co-authored more than 40 peer-reviewed technical papers, and edited and contributed to four books, on the topics of water quality, water treatment, groundwater remediation, and aquifer restoration.  In addition to his consulting practice, Dr. Kavanaugh has completed several invited assignments with the National Research Council (NRC), the operational arm of the National Academies.  Between 1988 and 1991, Dr. Kavanaugh chaired the NRC Water Science and Technology Board. Between 1992 and 1994, he was chair of the NRC Committee on Ground Water Cleanup Alternatives and, between 1996 and 2000, he chaired the NRC Board on Radioactive Waste Management.  He is currently chairing the NRC Committee on Future Options for Management in the Nation's Subsurface Remediation Efforts in the U.S., with a report due by the end of 2012.  For his contributions to water quality and hazardous waste management, Dr. Kavanaugh was elected into the National Academy of Engineering (NAE) in 1998.  Dr. Kavanaugh also  serves (2009-2014) on the Board of Directors of the Environmental Law Institute (ELI), providing a science and engineering perspective to this non-profit organization which promotes the role of legal strategies to achieve balance between economic growth and environmental stewardship.
Dr. Kavanaugh has long been active in service to Berkeley CEE.  He was one of the founding members of the CEE Advisory Council (2006). He served as Vice Chair of the Council from 2008 to 2011.  He has also delivered a number of seminar lectures to Berkeley CEE students, focused on environmental science and technology.  He has also regularly lectured in graduate and undergraduate CEE environmental courses over a period of more than two decades.