Academy of Distinguished Alumni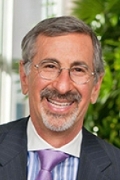 David Friedman BSCE, P.E., S.E.
Inducted to the Academy of Distinguished Alumni on
David Friedman received his B.S. (1975) degree in Civil (Structural) Engineering from the University of California, Berkeley and is a Registered Civil and Structural Engineer in California, Nevada, and British Columbia.  David is a Senior Principal, Chair of the Board of Directors, and immediate past President and CEO (1995-2007) of Forell/Elsesser Engineers Inc., with more than 32 years at the firm, and almost 37 years as a practicing structural engineer.  Forell/Elsesser Engineers is a 40-person consulting structural and earthquake engineering firm practicing throughout the western United States and Canada.
Mr. Friedman has focused his professional engineering practice in structural and earthquake engineering design, with a specialty in designated historic structures.  He has creatively solved numerous engineering challenges including the base isolation retrofits for San Francisco City Hall and the Asian Art Museum, the adaptive reuse and retrofit for the San Francisco Conservatory of Music, and the seismic safety corrections and remodel of U.C. Berkeley's California Memorial Stadium.  His strength is in bringing a holistic approach to a project's planning, design, and construction, and in the collaborative integration of creative structural solutions with architects, engineers, and builders.  Among his awards and recognitions, he received the 2012 H.J. Brunnier Lifetime Achievement Award from the Structural Engineers Association of Northern California.
Mr. Friedman has long been active in service to Berkeley. He served as a Trustee of the U.C. Berkeley Foundation from 2003 to 2011. His service as a Trustee was recognized with a Trustees Citation in 2005 and the Wheeler Oak Meritorious Award in 2010.  He has served as one of the founding members of the Advisory Council to the College of Environmental Design since 2010. He has served as a founding member of the Advisory Council to the Department of Civil and Environmental Engineering (CEE) since 2006, and became Chair of the CEE Advisory Council in 2012. He was instrumental in helping to establish the undergraduate CEE Professional Development Certificate Program.  Mr. Friedman and his family established, in 2011, the Faculty Chair in Earthquake Engineering Excellence.