Academy of Distinguished Alumni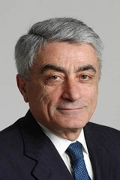 Adib K. Kanafani Ph.D., N.A.E.
Inducted to the Academy of Distinguished Alumni on
Adib Kanafani obtained his M.S. (1967) and Ph.D. (1969) degrees in Civil (Transportation) Engineering from the University of California, Berkeley.  He graduated cum laude with a Bachelor of Engineering degree from the American University of Beirut in 1964.  Since joining the faculty at Berkeley in 1970, he has taught and conducted research on transportation systems, transportation planning, airport planning and design, and transportation economics.
Professor Kanafani has made important contributions to travel demand analysis methods, airport capacity analysis methods, and airline network analysis methods. He performed groundbreaking research on airline hubbing and on the relation between aircraft technology and airline network structure. He was a member of the research team that developed airport capacity analysis methods that are in widespread application in airport planning and design in the U.S. and around the world.  Dr. Kanafani supervised more than 40 Ph.D. students who have taken leading positions in academe, industry, and government worldwide. He has authored or co-authored more than 170 publications, including the widely-used books Transportation Demand Analysis, and National Transportation Planning. He serves on a number of national and international advisory panels to government and industry. Dr. Kanafani was Director of Berkeley's Institute of Transportation Studies from 1982 to 1997, Chairman of the Department of Civil and Environmental Engineering from 1997 to 2002, and founding Director of the National Center of Excellence in Aviation Operations Research from 2001 to 2005.
Dr. Kanafani is a recipient of numerous awards including the American Society of Civil Engineers (ASCE) Walter Huber Research Prize, Horonjeff Award, and James Laurie Prize, and the Transportation Research Board (TRB) W.N. Carey Award.  In 1991, he was named the Edward G. and John R. Cahill Professor of Civil Engineering, a chair he held until his retirement in 2011. He was elected to the National Academy of Engineering (NAE) in 2002. He chaired the Transportation Research Board of the National Research Council in 2004, and was named a Lifetime Associate of the National Academies in in 2009.