Academy of Distinguished Alumni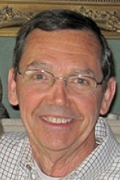 Richard G. Luthy Ph.D., P.E., N.A.E.
Inducted to the Academy of Distinguished Alumni on
Richard G. Luthy received a B.S. (1967) degree in Chemical Engineering and M.S. (1974) and Ph.D. (1976) degrees in Civil (Environmental) Engineering from the University of California, Berkeley.  He also earned an M.S. (1969) in Ocean Engineering from the University of Hawaii, Honolulu.  He is the Silas H. Palmer Professor and former Chair of the Department of Civil and Environmental Engineering (CEE), and Senior Fellow in the Woods Institute for the Environment, all at Stanford University.  Prior to joining the Stanford faculty in 2003, Professor Luthy was on the faculty of Carnegie Mellon University from 1975 to 1999, serving as CEE Department Chair from 1989 to 1996.
Professor Luthy's teaching and research interests are in the areas of environmental engineering and water quality.  His research interests include physicochemical processes and applied aquatic chemistry with application to water reuse and management of contaminants in sediment.  Current projects address the role of natural systems to enhance water quality and the potential for water reuse to benefit ecosystem habitats and urban aesthetics.  His research emphasizes interdisciplinary approaches to understand the environmental behavior and availability of organic contaminants and the application of these approaches to the control of contaminant bioavailability and the improvement of water and sediment quality.
Professor Luthy is past Chair of the National Research Council's Water Science and Technology Board, and a former President of the Association of Environmental Engineering and Science Professors (AEESP).  He is a Registered Civil Engineer, a Board Certified Environmental Engineer, and a member of the National Academy of Engineering (NAE).  Presently, he is Director of the National Science Foundation Urban Water Engineering Research Center (ReNUWIT) at Stanford.
Professor Luthy has received many recognitions, awards, and honors during his career.  He received an honorary Sc.D. from Clarkson University in 2005.  He was appointed Chair of the Foundation Board for the AEESP for 2009 and 2011.  He was also named the AEESP Distinguished Lecturer for 2011–2012, and he received the AEESP Service Award in 1999.  He was appointed the Einstein Chair Professor of the Chinese Academy of Sciences.  He received the Founders Award (twice) from the International Association of Water Quality, the Jack Edward McKee Award from the Water Environment Federation, and he was named to the first class of Lifetime National Associates of the U.S. National Academies (2001). From 2007–2011, Professor Luthy served on the Advisory Council to the CEE Department at U.C. Berkeley.