Academy of Distinguished Alumni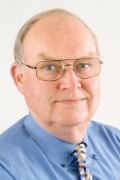 Loring A. Wyllie Jr. MSCE, P.E., S.E., N.A.E.
Inducted to the Academy of Distinguished Alumni on
Loring A. Wyllie, Jr., received his B.S. (1960) and M.S. (1962) degrees in Civil (Structural) Engineering from the University of California, Berkeley.  Mr. Wyllie has spent his entire professional career with Degenkolb Engineers of San Francisco, California, where he is currently a Senior Principal and Chairman Emeritus.   Mr. Wyllie is a Registered Civil and Structural Engineer in California and a licensed Professional Engineer in several other states.  He has spent his career in the design of structures with an emphasis on seismic resistance.  In addition to the design of many new buildings, he has concentrated on the evaluation of existing buildings, including dozens of historic buildings, for seismic resistance and the design of retrofits that strengthened the buildings for improved seismic performance.  Mr. Wyllie serves as the Structural Engineer member of California's State Historical Building Safety Board.  He has also served as a Peer Reviewer for many projects in California as well as for nuclear facilities at Department of Energy laboratories around the country.
Mr. Wyllie was President of the San Francisco Section, American Society of Civil Engineers (ACSE), and was awarded its H.J. Brunnier Award.  He was elected to Honorary Membership in ASCE in 2001 and in 2007 was awarded ASCE's OPAL Lifetime Achievement Award in Design.  He has served since 1972 on the American Concrete Institute's (ACI) Committee 318 which develops and maintains building code requirements for reinforced concrete construction.  From ACI, he received the Henry L. Kennedy Award and the Alfred E. Lindau Award, and he was elected to Honorary Membership in 2000.  He has served as President of the Structural Engineers Association of Northern California (SEAONC) and is a SEAONC Honorary Member. He also served as President of the statewide Structural Engineers Association of California (SEAOC) and is a SEAOC Fellow.  He has served as President of the Earthquake Engineering Research Institute and also was elected to Honorary Membership.
Mr. Wyllie was elected to the National Academy of Engineering (NAE) in 1990.  He has visited earthquake sites all over the world to observe damage and share his observations with the profession.  He has served as a Vice President of both the International Association for Bridge and Structural Engineering and the International Association for Earthquake Engineering.  He was named a Distinguished Engineering Alumnus of the U.C. Berkeley College of Engineering in 2001.