Academy of Distinguished Alumni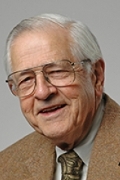 Karl S. Pister Ph.D., N.A.E.
Inducted to the Academy of Distinguished Alumni on
Karl S. Pister received his B.S. (1945) and M.S. (1948) degrees in Civil Engineering from the University of California, Berkeley, and a Ph.D. (1952) in Theoretical and Applied Mechanics from the University of Illinois, Urbana-Champaign. He passed away on May 14, 2022, at the age of 96.
Dr. Pister was Chair of the governing board of the California Council on Science and Technology, former Vice President-Educational Outreach, of the University of California, and Chancellor Emeritus of the University of California, Santa Cruz. Prior to retirement, he completed five decades of service to higher education, beginning his career in education as Assistant Professor in the Department of Civil Engineering at U.C. Berkeley. He served as Chairman of the Division of Structural Engineering and Structural Mechanics before his appointment as Dean of the College of Engineering in 1980, a position he held for ten years. From 1985 to 1990, of he was the first holder of the Roy W. Carlson Chair of Engineering. From 1991-1996, he served as Chancellor, U.C. Santa Cruz.  In 2005, Dr. Pister was appointed Senior Associate to the Chancellor at Berkeley to oversee the planning and construction of the Student Athlete High Performance Center and the seismic upgrading and rehabilitation of California Memorial Stadium.
Dr. Pister's career awards included the Wason Medal for Research, awarded by the American Concrete Institute, and Distinguished Alumni Awards from both the University of Illinois and the University of California, Berkeley Colleges of Engineering. The American Society for Engineering Education presented him with the Vincent Bendix Award for Minorities in Engineering, and the Lamme Medal, the highest honor bestowed by the society, for his contributions to engineering education.  He was also the recipient of the Berkeley Medal, the Clark Kerr Award, and the Leon Henkin Citation of the Berkeley Academic Senate, and the Presidential Medal of the University of California.
Dr. Pister was a member of the National Academy of Engineering (NAE) and a Fellow of the American Academy of Arts and Sciences. He was also a Fellow of the American Academy of Mechanics, the American Society of Mechanical Engineers, and the American Association for the Advancement of Science.  He was an Honorary Fellow of the California Academy of Sciences. He was a member of the Board of Directors of the Monterey Bay Aquarium Research Institute, the Center for the Future of Teaching and Learning, and the Board of Trustees of the American University of Armenia. He also served as founding Chairman of the Board on Engineering Education of the National Research Council.