Academy of Distinguished Alumni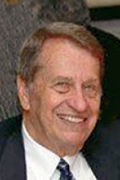 Richard W. Karn BSCE, P.E.
Inducted to the Academy of Distinguished Alumni on
Richard W. Karn received his B.S. (1950) degree in Civil Engineering from the University of California, Berkeley. After graduation, he was employed by the Alameda County Flood Control and Water Conservation District as the fourth employee of the new district. Among other assignments he served as Chief of the Water Resources & Planning Branch and, in 1962, directed a program to bring imported water from the South Bay Aqueduct to the growing cities of Livermore, Pleasanton, and Dublin. He served as Engineer-Manager of the District from 1962 to 1966 and directed the development of $100 million in flood control projects in the County. He also provided local cooperation for more millions of dollars in Federal and State flood control and water projects throughout the county.
In 1966, he left the District and formed Bissell & Karn, Inc. with fellow Cal grad Donald Bissell.  Together, they grew the firm from one office in San Leandro with 12 employees to six offices throughout Northern California with more than 300 employees. The firm provided engineering support for major private and public projects including roads, freeways, bridges, transportation systems, residential, commercial, and industrial developments, water, sewerage, flood control, and drainage systems, solid waste systems, and quarry reclamation projects. In 1990, he negotiated the merger of Bissell & Karn, Inc. with Greiner Engineering, Inc. where he served as Senior Vice President and member of the Office of the Chairman. He retired from Greiner at the end of 1994.
A member of the Student Chapter of the American Society of Civil Engineers (ASCE) while at Berkeley, he was very active in the Society throughout his career and was National President of ASCE in 1985. He followed that as Chairman of the American Association of Engineering Societies (AAES) in 1987. During his career, he received numerous honors, including: H. J. Brunnier Award, San Francisco Section, ASCE (1977); Honorary Fellow, The Institution of Civil Engineers, U.K. (1985); Eminent Engineer, Tau Beta Pi Honor Society (1990); Distinguished Engineering Alumnus, U.C. Berkeley Engineering Alumni Society (1995); Kenneth R. Roe Award for Engineering Unity, AAES (1990); ASCE President's Medal (1997); Life Membership, Civil Engineers and Land Surveyors of California (2004).