Academy of Distinguished Alumni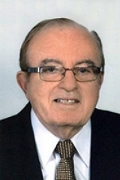 Mihran S. Agbabian Ph.D., N.A.E.
Inducted to the Academy of Distinguished Alumni on
Mihran S. Agbabian received his Ph.D. (1951) degree in Civil (Structural) Engineering, from the University of California, Berkeley. He also received a B.S. (1944) in Physics and a B.S. in Engineering (1947) from the American University of Beirut and an M.S. (1948) in Civil (Structural) Engineering from the California Institute of Technology.  He is Professor Emeritus of Engineering at the University of Southern California (USC) and President Emeritus of the American University of Armenia.   Dr. Agbabian has the distinction of being the first Ph.D. student in the structural engineering program at Cal, with Professor Egor Popov as his advisor. He founded the engineering firm Agbabian Jacobsen Associates in 1963, and in 1984 he joined the USC faculty, including as the Fred Champion Professor of Engineering and Chair of the Department of Civil Engineering.
During his career, Dr. Agbabian worked as a practicing structural engineer, first at Bechtel Corporation in San Francisco (1951-1955), then at Parsons Corporation (1955-1962) in Los Angeles.  At Agbabian Jacobsen Associates (1963-1983), he worked on the effects of nuclear weapons on civilian and military installations and on earthquake engineering design and analysis.  After the disastrous earthquake of 1988 in Armenia, Dr. Agbabian joined two colleagues to found the American University of Armenia (AUA) where he served as founding President (1991-1997) while continuing his position at USC. The Board of Regents of the University of California (U.C.) agreed in 1991 to have AUA as an affiliate of the U.C. system. Through this affiliation, U.C. was able to provide technical assistance to AUA and help further its development as an American model educational institution. This affiliation has been continuing for more than 20 years. AUA is accredited by the Western Association of Schools and Colleges and it has to date graduated more than 2,000 M.S. degreed students in seven academic departments.
Among the honors Dr. Agbabian has received are the U.C. Berkeley College of Engineering Distinguished Engineering Alumnus Award in 1987, and the California Institute of Technology Distinguished Alumnus Award in 2000.  In 1982, he was elected to the U.S. National Academy of Engineering (NAE).  In 1990, he was elected to the Armenian National Academy of Sciences.  He is the recipient of the Ellis Island Medal of Honor in 1995, and in 2001, the President of the Republic of Armenia awarded him the Movses Khorenatsi Medal for exceptional achievement in educational development.