Academy of Distinguished Alumni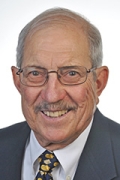 Howard A. Schirmer Jr. MSCE, P.E.
Inducted to the Academy of Distinguished Alumni on
Howard Schirmer received his B.S. degree (1964) and M.S. degree (1965), both in Civil Engineering from the University of California, Berkeley.
Mr. Schirmer has had a distinguished 50-year career as a civil and geotechnical engineering practitioner and engineering firm leader.  Since 1997, he has been the President and Owner of Transnational Associates, Inc.  From 1990 to 1997, he was with CH2M Hill International, serving as its President and Managing Director.  From 1964 until 1989, he was with Dames and Moore, rising through a series of positions culminating with him being named Chief Operating Officer and then Managing Director of their International Division.
In his career, he has worked in 68 countries on major infrastructure and environmental projects, and he has advised numerous companies on conducting international business for the World Bank, Asian Development Bank, and other international financial institutions.  He was the International Director and chaired numerous committees for the American Society of Civil Engineers (ASCE), American Council of Engineering Companies (ACEC), and International Federation of Consulting Engineers (FIDIC). 
Mr. Schirmer's many noteworthy projects include:  preliminary safety analysis reports (PSAR) for two nuclear power plants in S. Korea; foundation design for the Aloha Stadium and numerous high rise structures in Hawaii; foundation design for the Westin Stamford Hotel in Singapore, the tallest hotel in the world until 1997; geotechnical investigation and grouting inspection services for the Tafuna Power Plant in American Samoa; and geotechnical investigation and construction services for the US Navy AFDM floating dry dock for nuclear submarines in Pearl Harbor.
For his accomplishments, Mr. Schirmer has received a number of recognitions, including Honorary Consultant, City of Changchun, China (1993); Chi Epsilon Chapter Honor Member, University of Hawaii (1979); and ASCE Edmund Friedman Young Engineer Award for Professional Achievement (1974).  He is a Fellow and Life Member of ASCE (1964-present); Life Member of the American Public Works Association (1976-present); Member of the International Society of Soil Mechanics and Foundation Engineering (1965-present); Member of the Envision Subcommittee for Leadership and Climate, Institute for Sustainable Infrastructure (2012-2015); and, Member of the ASCE Geo-Institute International Activities Council (1998-2013).
Mr. Schirmer has served on the U.C. Berkeley CEE Department Advisory Council.  In 1996, he established the Amy F. and Howard A. Schirmer Scholarship Fund for civil engineering undergraduate students at Berkeley.  He is a member of the Berkeley Engineering Alumni Association, serving as both its Southern California Chapter Director (1989), and Hawaii Chapter Founder and Regional Chairman, (1987-1989).  He has been a speaker at Cal Day to prospective incoming undergraduate CEE students and their parents.