Academy of Distinguished Alumni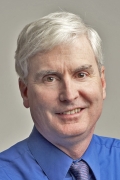 James O. Malley M.Eng., P.E., S.E.
Inducted to the Academy of Distinguished Alumni on
James Malley received an M. Eng. degree (1983) in Civil (Structural) Engineering and a B.S. degree (1980) in Civil Engineering, both from the University of California, Berkeley. Since graduation, he has been with Degenkolb Engineers in San Francisco, California, rising from the position of Designer to Senior Principal.
Mr. Malley has more than 33 years of experience in structural design, seismic evaluations, and seismic strengthening of existing buildings. Of particular note, Mr. Malley has led the design of numerous significant structures in seismic regions, including several major hospitals for the Department of Veterans Affairs (VA), such as new VA hospital in Las Vegas and the replacement for the VA Palo Alto facility that suffered severe damage in the 1989 Loma Prieta earthquake. Mr. Malley also led the seismic retrofit design of the Caltrans District 4 office building in downtown Oakland, a project that received a "New Innovations in Seismic Strengthening Over the Last Decade" award from the Applied Technology Council in 2009. He also performs peer review for many major West Coast cities for the performance based seismic design of many unique and iconic buildings and structures. For six years, he led a FEMA funded major research effort as Project Director for Topical Investigations of the SAC Steel Program to investigate the damage to steel moment frame connections caused by the 1994 Northridge earthquake. His M. Eng. research under Professor Egor Popov that focused on shear links in eccentrically braced frames led to their receiving the ASCE Raymond C. Reese Research Award. A national expert in steel frame building design, he has served on the AISC Specifications Committee for more than 20 years, becoming its Chair in 2016. He previously served as Chair of the AISC Seismic Design Task Committee for twenty years and has authored dozens of papers on seismic design of structural steel. AISC awarded him a Special Achievement Award in 2000, the AISC T.R. Higgins Lectureship Prize in 2010 and a Lifetime Achievement Award in 2013.

In addition to his work with AISC, Mr. Malley's service to industry includes: Building Seismic Safety Council, Provisions Update Committee Member; Structural Engineers Association of Northern California, Director 1995-2002 and President, 2000-2001; Structural Engineers Association of California, Director, 1995-2005, and President, 2003-2004; and National Council of Structural Engineers Associations, Director, 2004-2012 and President, 2011.
Mr. Malley has long been active with the Berkeley campus. He provided structural peer review for the new Central Dining Hall in the residential complex south of campus and developed seismic strengthening schemes and construction documents to seismically strengthen four nine-story residential buildings on campus. He also supports the SEMM division of the CEE department as a frequent guest lecturer. He has supported Pacific Earthquake Engineering Research (PEER) Center located at Berkeley as Chair of the Industry Advisory Board since the inception of the Center in 1996. He has also participated as one of the authors of the award winning PEER Tall Civil and Environmental Engineering Building's Guidelines that have been used widely in the performance based seismic design of many tall buildings on the West Coast. Mr. Malley is also an avid follower of Cal Athletics.