Academy of Distinguished Alumni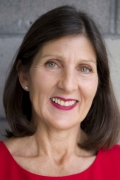 Maryann Phipps M.Eng., P.E., S.E.
Inducted to the Academy of Distinguished Alumni on
Maryann Phipps received an M.Eng. degree (1981) in Civil (Structural) Engineering from the University of California, Berkeley. She also received a B.S. degree (1979) in Civil Engineering from Cornell University. From 1981 to 2000, she was employed by Degenkolb Engineers, rising to the position of Senior Principal. In 2000, she founded and became President of Estructure, and she remains in that position today. Estructure is a highly-regarded structural engineering and consulting firm focused on complex building projects. The firm is located in Oakland, California.
Ms. Phipps has more than 35 years of experience evaluating, designing, and renovating hospitals, laboratories, and other institutional facilities. As a registered Civil and Structural Engineer in California, she has in the past five years alone served as Structural Engineer of Record for well over 200 California Office of Statewide Health Planning and Development (OSHPD) projects and participated in the peer review of two new hospitals. Her experience designing medical facilities has made her a recognized expert in the field. As such, she has served as the lead, co-lead, or management committee member for national projects including: the Federal Emergency Management Agency (FEMA) P-74 (Reducing the Risks of Nonstructural Earthquake Damage); FEMA P-58 (Seismic Performance Assessment of Buildings); (FEMA) P-1024 (Performance of Buildings and Nonstructural Components in the 2014 South Napa Earthquake); and, Applied Technology Council (ATC) 120 (Seismic Analysis and Design of Nonstructural Components and Systems). She recently conducted shake table testing at Berkeley to improve design practices for seismically securing hospital and lab equipment.

Ms. Phipps has actively supported Berkeley CEE as a frequently invited speaker in the structural engineering program.