Academy of Distinguished Alumni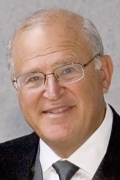 Eugene M. Herson MSCE, P.E., C.P.A.
Inducted to the Academy of Distinguished Alumni on
Eugene M. "Gene" Herson received both his B.S. (1965) and M.S. (1966) degrees from the University of California, Berkeley. His graduate school focus was in the area of structural engineering (concrete). After graduation, he joined the U.S. Public Health Service (USPHS) where for several years he contributed to the development of the country's nascent solid waste management strategy and regulatory program. His next career step was into the private sector where he held senior positions within the solid waste management industry as well as served as a certified public accountant (CPA) with the management consulting firm Ernst & Ernst (predecessor of Ernst & Ernst (predecessor of Ernst & Young). In 1991, he joined Emcon Associates, San Jose, California, where he served as President and CEO until his retirement in 1999. At Emcon, he led the transformation of a traditional environmental engineering consulting firm to an integrated service contractor providing turn-key "one stop" solutions to government and industry. Mr. Herson was born in 1942 and passed away on June 24, 2011.
Mr. Herson had a highly productive career as an engineer, business executive, and in public outreach and public service. In 2003, he served as the California co-chair for the major San Francisco exhibit "Me, Myself and Infrastructure: Private Lives and Public Works in America" honoring the 150th anniversary of the American Society of Civil Engineers (ASCE). The exhibit highlighted the impact of civil engineering on society. He was appointed by the California Senate to a Statewide Task Force on Waste Management (SR 33) that was charged with developing recycling goals for the state. He also spearheaded and chaired the Environmental Industry Working Group, Joint Venture Silicon Valley, a business incubator for environmental start-up firms, and he served a term as President of the Commonwealth Club of California, the nation's oldest and largest public affairs forum.
Throughout his career, Mr. Herson was an ardent supporter of the Department of Civil and Environmental Engineering, the College of Engineering, and the Berkeley Campus. He served as President of the Berkeley Engineering Alumni Society. In 2006, he was asked by CEE Department Chair Gregory Fenves to be the founding Chair of the CEE Advisory Council. Under his leadership, the council took on an important role advising the department and advocating for it, a role that continues today. In 2003, he received the College of Engineering's Distinguished Engineering Alumni Award for lifetime engineering achievements and public service. In addition, he served from 1979 until 1994 as an Adjunct Professor and Lecturer in the CEE Department, lecturing to both graduate and undergraduate students in courses on solid and hazardous waste management.