Academy of Distinguished Alumni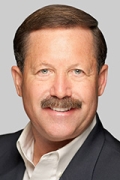 James H. Roberts MSCE, M.B.A.
Inducted to the Academy of Distinguished Alumni on
James "Jim" Roberts received both his M.S. degree (1980) and B.S. degree (1979) in Civil Engineering from the University of California, Berkeley. He also received an M.B.A. (1981) from the University of Southern California. Since 1980, he has been with Granite Construction Company, a national, widely-respected heavy civil construction firm headquartered in Watsonville, California. Over the years, he has risen through a progression of increasingly senior positions at Granite, becoming President and CEO of the firm in 2010. He also serves as a member of its Board of Directors.
Mr. Roberts is a distinguished construction executive, spending his entire 35 year career with Granite. As President and CEO, and as a Board Director, he is responsible for the overall direction of the parent company and all of its subsidiaries. Granite's revenues currently exceed $2.4 billion annually. Under his leadership, Granite is widely recognized as not only one of the most accomplished heavy civil contractors in the U.S. with many award-winning projects, but also one of the most ethical, with a widely-recognized code of conduct centered around nine Core Values (Safety, Honesty, Integrity, Fairness, and others). The strong safety culture of the firm is reflected in the many awards Granite has received for their safety program, in addition to having one of the best safety records among large heavy civil contractors in the country. Noteworthy recent Granite projects that highlight the capabilities of the firm include: New Hudson River Tappan Zee Bridge Replacement (NY); World Trade Center PATH Transportation Hub (NY); SR202 HOV Lane Design Build (AZ); Houston Rapid Transit (TX); PG&E Diablo Canyon Power Plant Major Improvements (CA); USACE Folsom Dam Auxiliary Spillway (CA); IH-35E Design Build (TX); and UDOT I-15 Corridor Reconstruction (UT).
Among his notable professional recognitions, Mr. Roberts was elected to both The Moles and The Beavers, two prestigious heavy construction honor and fraternal societies. Under his leadership, Granite has been recognized with three Safety Excellence Awards from the American Road and Transportation Builders Association (2010, 2011, 2013); four Excellence in Safety Awards from the Associated General Contractors of America (2010 - 2013); seven recognitions as one of the World's Most Ethical Companies, Ethisphere Institute (2010 - 2016); and two Excellence in Partnering Awards, from Caltrans (2012, 2013). He has personally held many leadership positions during his professional career including Chairman of the National Asphalt Pavement Association; Board of Directors of the U.S. Chamber of Commerce; President of the Nevada Chapter of Associated General Contractors; Board member of  the Construction Industry Round Table (CIRT); founding member of the Construction Industry Ethics and Compliance Initiative (CIECI); Trustee Emeritus of the University of Nevada, Reno Foundation; Member of the Cal Poly SLO Council of Advisors to the President, and others.