Academy of Distinguished Alumni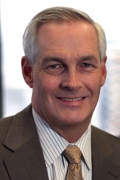 Jon D. Magnusson M.S., P.E., S.E., N.A.E.
Inducted to the Academy of Distinguished Alumni on
Jon Magnusson received his M.S. degree (1976) in Civil (Structural) Engineering from the University of California, Berkeley. He also received a B.S. degree (1975) in Civil Engineering from the University of Washington. He has spent his entire career with the structural and civil engineering consulting firm that is today Magnusson Klemencic Associates (MKA). From 1988 until 2013 he served as the CEO, and from 1998 to 2013 as Chairman of the Board. Presently, he is Senior Principal in the firm.
Mr. Magnusson has had a distinguished career as a structural engineer. Beyond his leadership building MKA into one of the country's leading structural design firms, he has been responsible for numerous major and innovative projects including: Safeco Field in Seattle, a 47,000-seat baseball stadium with an innovative retractable roof; Seattle Central Library; Century Link Field, also in Seattle, a 67,000-seat football and soccer stadium;  the Hawaii Convention Center in Honolulu and the Phoenix Convention Center in Arizona; Levi's Stadium, a 75,000-seat football stadium in Santa Clara, California; Frank Gehry's Experience Music Project in Seattle; and many noteworthy high-rise buildings, such as the 24-story 1111 Broadway Building in Oakland, and the 34-story One America Plaza in San Diego.
Mr. Magnusson has a long history of service to the profession. Among his many service contributions, he served on the Board of Governors of the ASCE Structural Engineering Institute, as President of the Structural Engineers Association of Washington, and on the Board of Directors of the Structural Engineers Foundation of Washington. He was the Founder and Past-President for the Architecture Construction Engineering (ACE) Mentor Program of Washington, and he was Co-Chair of the University of Washington CEE Department Visiting Committee.  He is currently the President of the ASCE Foundation.
For his career accomplishments, Mr. Magnusson was elected to the National Academy of Engineering (2016), and he received the ASCE Outstanding Projects and Leaders Lifetime Achievement Award in Design (2014) as well as being named an ASCE Distinguished Member (2008). He received the Diamond Award from the University of Washington College of Engineering, and he was elected to the University of Washington Construction Management Hall of Fame. He is a Fellow of the Structural Engineering Institute, Honorary Member of the American Institute of Architects, and he received the Designer Lifetime Achievement Award from the American Institute of Steel Construction.
Mr. Magnusson has sponsored structural research and been a distinguished guest lecturer in the Berkeley CEE structural engineering program multiple times.