Academy of Distinguished Alumni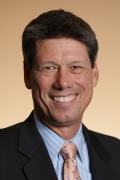 David T. Gockel M.S., P.E.
Inducted to the Academy of Distinguished Alumni on
David Gockel received his M.S. degree (1982) in Civil (Geotechnical) Engineering from the University of California, Berkeley. He received his B.S. degree (1981) in Civil Engineering from the New Jersey Institute of Technology. Upon graduation, he joined Langan Engineering and Environmental Services, and he has been with Langan for the past 35 years, rising from Project Engineer to President and CEO, a position he assumed in 2004. Langan is a highly-regarded geotechnical and environmental consulting and design organization with offices across the U.S. and in several other countries.
Under Mr. Gockel's leadership, Langan has quadrupled in size from 200 employees in 2004 to 1,000 today. In 2010, he led the firm's expansion into California through the acquisition of Treadwell & Rollo, Inc., with offices in San Francisco, Oakland, San Jose, and Sacramento. The acquisition greatly enhanced Langan's seismic and earthquake engineering capabilities, and expanded the firm's geographical footprint. On the international front, Mr. Gockel has led Langan's expansion into the United Arab Emirates, and more recently, Latin America. As a practitioner, he has served as project manager or principal-in-charge for numerous geotechnical projects, including MetLife Stadium, American Dream Meadowlands, Prudential Center Arena, Colgate Center, and Memorial Sloan Kettering Center, all in New Jersey. He is a registered Professional Engineer, Professional Planner, and LEED Accredited Professional.
Mr. Gockel received the Engineer of the Year Award from the American Society of Civil Engineers (ASCE) NJ Section, the President's Award from the National Association of Industrial and Office Properties (NAIOP), and the Humanitarian of the Year Award from the Commercial Real Estate Community. In 2012, he was named to the Board of Governors for NAIOP's Research Foundation. From 2012 to the present, he has served on the Board of Overseers for the New Jersey Institute of Technology.
As the President and CEO of Langan, Mr. Gockel was instrumental in establishing the Langan Fellowship for graduate students in GeoSystems within Berkeley CEE. In addition, he has been an active supporter of creating internships for undergraduate Berkeley CEE students, particularly in Langan's Oakland office.