Academy of Distinguished Alumni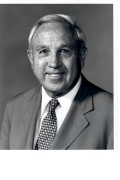 William R. Gianelli B.S., P.E.
Inducted to the Academy of Distinguished Alumni on
William Gianelli received his B.S. degree (1941) in Civil Engineering from the University of California, Berkeley. Upon graduation, he served in the U.S. Army during World War II, rising to the rank of Major and receiving the Purple Heart. In 1946, he joined the Office of State Engineer of California and in 1956, he joined the California Department of Water Resources (DWR). After a stint in private practice from 1960 to 1967, he was appointed Head of DWR by Gov. Ronald Reagan. After another stint in private practice from 1973 to 1980, President Reagan appointed him as Assistant Secretary of the Army (Civil Works) and Chair of the Panama Canal Commission. In 1984, Mr. Gianelli went back into private practice, finishing his career at Dawson and Associates. He passed away in March 2020, at the age of 101.
Mr. Gianelli is widely considered as one of California's pioneering leaders in civil engineering. As a highly respected public and private engineer, he used his Berkeley engineering education and experience to accomplish vitally needed war time projects, to plan and develop the California State Water Project, to serve the government in leadership positions as the Assistant Secretary of the Army in charge of the Corps of Engineers and Chair of the Panama Canal Commission,  and as visionary in the founding of the Water Education Foundation, a nonprofit organization founded to foster public understanding and resolution of water resource issues through facilitation, education, and outreach. The William R. Gianelli Water Leaders Class is a one-year program that identifies up-and-coming community leaders from diverse backgrounds, including members of minority and ethnic communities, and educates them about water issues.
For his many contributions to the country, Mr. Gianelli was awarded the prestigious Hoover Medal in 1988 "For outstanding civic contributions, as civil servant and private consultant, including the development of water resources and enlightened stewardship of public properties to the benefit of the citizens of the United States."
The Hoover Medal was established in 1929. It is conferred upon an engineer whose professional achievements and personal endeavors have advanced the well-being of humankind. Mr. Gianelli also received the ASCE Royce J. Tipton Award and President's Award, and the Distinguished Service Award from the California Council of Civil Engineers and Surveyors (1972). He has been an ASCE Fellow, Honorary Member of the American Water Works Association, Chairman of the Water Education Foundation, and Board Member of the California Chamber of Commerce. In recognition of his contributions to the State Water Project, DWR named the pumped-storage hydropower plant at the San Luis Reservoir in Merced County, the William R. Gianelli Power Plant.