Academy of Distinguished Alumni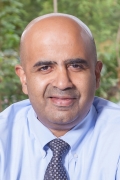 Balakrishnan Narayanan Ph.D., P.E.
Inducted to the Academy of Distinguished Alumni on
Balakrishnan Narayanan received his Ph.D. (2003) in Civil Engineering from the University of California, Berkeley. His graduate school focus was in environmental engineering. He also received an M.S. degree (1990) in Civil Engineering from the University of Illinois, Urbana-Champaign and a B.S. degree (1988) from the Indian Institute of Technology in Madras, India. He has spent his entire working career (starting in 1990) at Carollo Engineers in Walnut Creek, California, where he has risen from the position of project engineer to Chief Technologist, President, and CEO. Founded in 1933, Carollo is the largest consulting and engineering firm in the United States dedicated solely to water related engineering.
Since becoming CEO, Dr. Narayanan has led Carollo to achieve both growth and diversification through the development of its human capital and by reorganizing the firm to better respond to changing society needs and challenges. He created Carollo's first Employee Engagement Group. He also initiated the "Carollo Cares" program dedicated to educating underprivileged children about science, technology, engineering, and math (STEM) and the water/wastewater industry. In addition to his management accomplishments, Dr. Narayanan is a nationally-recognized expert in wastewater treatment, and he is the author of numerous publications and presentations on this topic. As a practitioner, Dr. Narayanan has been involved in the design of more than 50 biological nutrient removal (BNR) systems nationwide. These include major projects for the Metropolitan Wastewater Reclamation District (MWRD), Colorado; Clean Water Services, Oregon; Clark County Water Reclamation District (CCWRD), Nevada; the City of Fresno, California; and the Eastern Municipal Water District, California.
Dr. Narayanan is author/co-author of more than 40 technical papers on a broad range of water quality topics. He has been a project team member for several of Carollo's award-winning projects, including the MWRD's South Secondary Improvements Project, which won the American Academy of Environmental Engineers and Scientists Grand Prize for Design in 2017; the CCWRD WWTP project, which won WEF's George Bradley Gascoigne Award in 2000; and the Sacramento Regional Wastewater Treatment Plant Channel Aeration Study, which won the California Water Environment Association (CWEA) San Francisco Section's 1998 Engineering Achievement Award.
Dr. Narayanan has been a long-time supporter of Berkeley CEE. He is a frequent guest speaker within the environmental program and he has been an enthusiastic supporter (through Carollo Engineers) of the CEE Undergraduate Research Opportunity Program (UROP).