Academy of Distinguished Alumni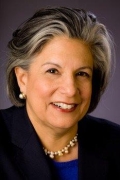 M. Susan Leal B.S., J.D.
Inducted to the Academy of Distinguished Alumni on
Susan Leal received her B.S. degree in (1971) in economics and her Juris Doctor (J.D., 1975) from the University of California, Berkeley. From 1993 to 1998 she served as a member of the Board of Supervisors, and from 1998 to 2004 as Treasurer, both for the City and County of San Francisco. In 2004, she became General Manager of the San Francisco Public Utilities Commission (SFPUC), a position she held until 2008 when she became a Senior Fellow at the Advanced Leadership Institute at Harvard University (2008-2010). Since then, she has been a consultant to water utilities both locally and globally, working today from her consulting firm Urban Water Works and an Associate in the School of Engineering and Applied Sciences at Harvard University.
Ms. Leal was elected as an Honorary Member of the CEE Academy of Distinguished Alumni for her more than twelve years of continuous service to Berkeley CEE. While an attorney by training, Ms. Leal is steeped in civil engineering culture, with a distinguished career as a transformational leader with strong management, financial, and business development skills. With an executive career in both the public and private sectors, she has demonstrated a deep and broad knowledge of theoretical and practical solutions to local and global water and wastewater issues. As General Manager of the SFPUC, Ms. Leal managed a $600 million annual operating budget. During her tenure at SFPUC, she directed a $4.5 billion capital water program to address critical seismic problems and she laid the groundwork for a $5+ billion capital wastewater program. 
Ms. Leal co-authored the book titled "Running Out of Water: The Looming Crisis and Solutions to Conserve Our Most Precious Resource" published by Palgrave MacMillan. She has also authored many technical papers and articles on water policy and its effect on economic development and environmental health.
Ms. Leal has been a member of, and currently chairs the CEE Advisory Council. For twelve consecutive years, she has been a tireless advocate for the excellence of the Department. She has provided steady leadership to the Advisory Council and has propelled it to play an important role in supporting and guiding the Department. Annually, she participates in teaching a leadership course to CEE undergraduates, and she recently developed a program for students to meet with CEE industry leaders to increase their exposure to the profession.