Academy of Distinguished Alumni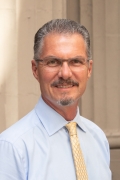 Mason T. Walters M.Eng., P.E., S.E.
Inducted to the Academy of Distinguished Alumni on
Mason Walters received his M.Eng. degree (1980) in Civil Engineering from the University of California, Berkeley. His graduate school focus was in structural engineering. He also received a B.S. degree (1978) in Architectural Engineering from California Polytechnic State University in San Luis Obispo. From 1980 to 1984, Mr. Walters worked as a bridge engineer for T.Y. Lin International, where he served as project engineer for the Jamestown Replacement Bridge over Narraganset Bay in Rhode Island, as well as the major bridges of the I-85/I-285 "Spaghetti Junction" interchange in Atlanta, Georgia.  Since 1984, he has been with Forell/Elsesser Engineers, Inc. in San Francisco, where he is a Senior Principal and the firm's Technical Director.
Mr. Walters is widely regarded as one of the most innovative and creative structural and earthquake engineers in the country. He is often engaged on the most challenging and difficult building structural engineering projects, and his unique and creative solutions have garnered more than a dozen project awards for structural engineering excellence. His noteworthy seismic rehabilitation projects include the Oakland,  San Francisco, and Pasadena City Halls, Utah State Capitol Building, California Memorial Stadium, and the seismic protection system for the San Diego-Coronado Bay Bridge.  He is the structural engineer for the BART/AirTrain Station at SFO and U.C. Berkeley's Sutardja Dai Hall and Student Athlete High Performance Center.  He also invented a mechanism to keep seismically isolated structures from lifting off their foundations, pioneered the use of base isolation to preserve historic buildings, and was one of the earliest champions of seismic isolation technology. He is well known in throughout North America for the development and application of seismic isolation, large-scale solar rooftop systems, and sustainable concrete mix technologies.
Mr. Walters is the author or co-author of over 30 articles and technical papers on applied structural engineering. He has been a speaker at numerous national and international earthquake engineering conferences. He has served on the Board of  Directors of, and has chaired several technical committees for, the Structural Engineering Association of Northern California.  He is also a member of the Earthquake Engineering Research Institute, American Society of Civil Engineers, American Concrete Institute, and American Institute of Steel Construction.
Mr. Walters has long been of service to Berkeley. He has been a guest lecturer at numerous CEE graduate structural engineering classes, and he has worked closely with the CEE Department's Seismic Review Committee on the structural engineering of numerous campus projects. He was recently named to Chair the U.C. Office of the President Science Advisory Board (SAB), a reflection of the high regard given him by both CEE faculty and the earthquake engineering profession.