Academy of Distinguished Alumni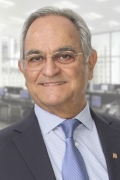 Faiz Makdisi Ph.D., P.E., D.GE
Inducted to the Academy of Distinguished Alumni on
Faiz Makdisi received his Ph.D. (1976) and M.S. degree (1971) in Civil Engineering from the University of California, Berkeley. His graduate school focus was in geotechnical earthquake engineering. He also received a B.Eng. degree (1970) from the American University of Beirut, Lebanon. Since graduation, Dr. Makdisi has worked as a consulting geotechnical earthquake engineer in the San Francisco Bay Area. In 1986, he joined the firm Geomatrix Consultants, Inc., serving as a Principal Engineer and Vice President. In 2008, the firm became part of AMEC Environment and Infrastructure, Inc. Since 2015, he has been a Senior Principal Engineer at Sage Engineers, Inc.,which recently merged with Gannett Fleming, Inc.
Throughout his career, Dr. Makdisi has combined applied research and professional practice in geotechnical earthquake engineering to the expert evaluation of dams, levees, foundations, and other infrastructure. He has performed studies to evaluate earthquake-induced deformations in slopes and embankments and developed (with the late Harry B. Seed) simplified procedures for estimating the dynamic response and permanent deformations in earth and rockfill dams and embankments, i.e., the well-known "Makdisi and Seed Method."  He has led earthquake ground motion studies, the development of seismic design criteria, the evaluation of seismic stability, and the design of remedial measures for more than 50 embankment dams. Of note, Dr. Makdisi recently served as a member of the Board of Consultants for the Oroville Dam Spillway Restoration Project, and on the Director's Safety Review Board for Perris Dam, Castaic Dam, Crafton Hills Dam, B. F. Sisk Dam, and five Delta Dams, all for the California Department of Water Resources. He also serves as a member of the U.S. Bureau of Reclamation Board of Consultants for Conconully and El Vado Dams. Dr. Makdisi has performed Federal Energy Regulatory Commission (FERC) safety inspections and facilitated Potential Failure Modes Analyses for more than 80 dams.
Dr. Makdisi has authored or co-authored more than 50 peer-reviewed technical papers and major research reports. His paper (co-authored with H. Bolton Seed, K. Lee, and I. M. Idriss) on the analysis of slides in the San Fernando Dams during the 1971 San Fernando earthquake was awarded the 1977 Norman Medal by the American Society of Civil Engineers. For his role as a Technical Advisor to the Los Angeles District, U.S. Army Corps of Engineers (USACE), on the design and construction of the 600-foot-high Seven Oaks Dam in California, Dr. Makdisi was co-recipient of the USACE, Chief of Engineers "Design and Environmental Honor Award for 2002." In 2016, the Association of State Dam Safety Officials awarded Dr. Makdisi its Danny McCook Medal for his lasting contributions to dam safety.
Dr. Makdisi has been a long-time friend and supporter of Berkeley CEE, as a frequent guest lecturer and by championing his firms' support for graduate fellowships.