Academy of Distinguished Alumni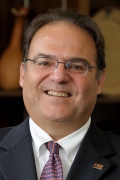 Benito J. Mariñas Ph.D.
Inducted to the Academy of Distinguished Alumni on
Benito Mariñas received his Ph.D. (1988) and M.S. degree (1984) in Civil Engineering from the University of California, Berkeley. His graduate school focus was in environmental engineering. He obtained his B.S. degree (1981) in Civil Engineering from the Universidad Politécnica de Madrid, Spain. After starting his academic career at Purdue, he has been on the faculty in Civil and Environmental Engineering at the University of Illinois, Urbana-Champaign since 1995. Starting in 2014, Professor Mariñas assumed the role of Department Head, and he now leads one of the largest and most successful civil and environmental engineering programs in the nation.
Professor Mariñas is renowned world-wide for his scholarly work on physical-chemical processes for the treatment of wastewater, surface water, and groundwater. He has led pioneering research related to the behavior and performance of new membrane materials used in water-treatment, the kinetics of ozone disinfection byproduct formation and the control of these byproducts, the kinetics and mechanisms of waterborne pathogen inactivation, and the design of new applications for activated carbon in both water and wastewater treatment systems.
Professor Mariñas's research contributions have included more than 110 peer-reviewed publications and four book chapters. He has given more than 140 invited presentations at International Water Association (IWA), Water Environment Federation (WEF) and American Water Works Association (AWWA) conferences as well as other academic and technical meetings. In 2011, he was selected as the plenary speaker for the 8th International Water Association Leading Edge Technology Conference, and the opening lecture at the 2019 Gordon Research Conference on Disinfection, By-products and Health.
His intellectual leadership has included service as Director of the National Science Foundation (NSF) Science and Technology Center of Advanced Materials for the Purification of Water with Systems (WaterCAMPWS) focused on the development of advanced materials and their applications in water treatment technologies. For the past eight years, he has served as the Director of the Safe Global Water Institute (SWGI) at the University of Illinois. The SGWI, which grew out of the NSF STC WaterCAMPWS, works with a network of international partners to bring scientific and engineering advances to bear on safe water and sanitation needs around the globe.
Professor Mariñas is an acclaimed teacher and mentor, having received numerous teaching and counseling awards from both Purdue and Illinois. Over the years, he has been a frequent collaborator with Berkeley CEE faculty.