Academy of Distinguished Alumni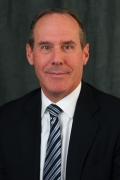 John D. Hooper M.S., P.E., S.E., F.SEI
Inducted to the Academy of Distinguished Alumni on
John Hooper received his M.S. degree (1984) in Civil Engineering from the University of California, Berkeley. His graduate school focus was in structural engineering. He also received a Bachelor of Civil Engineering degree (1981) from Seattle University. From 1981 until 1996, Mr. Hooper worked at the engineering firm RSP/EQE, rising to the position of Technical Director and Vice President. He joined Magnusson Klemencic Associates (MKA) in 1997 and he continues to work there today in the positions of Senior Principal and Director of Earthquake Engineering.
Mr. Hooper is one of the country's preeminent structural earthquake engineers. He has led the seismic analysis and design of numerous large, iconic structures located around the world and he has contributed to the development of seismic design codes. The impact of his leadership in these areas is recognized throughout the profession.
Mr. Hooper has guided the seismic design for every major MKA project in a seismic zone over the last 23 years (totaling more than 300 projects). These include Seahawks' CenturyLink Field (Seattle), 49ers' Levi's Stadium (Santa Clara), Salesforce Tower (San Francisco), and Rainier Square Redevelopment (Seattle). Of note, 14 of these projects were recognized by the American Council of Engineering Companies (ACEC) with national Engineering Excellence Awards. He is recognized throughout the industry for his record of exemplary service to the profession, serving on committees and in leadership roles for the Earthquake Engineering Research Institute, Pacific Earthquake Engineering Research (PEER) Center, ASCE Structural Engineering Institute (SEI), ASCE 7, Building Seismic Safety Council, Structural Engineers Association of Washington, and others. He is the author or co-author of more than 50 technical papers and articles and has given more than 120 presentations to professional organizations, universities, and lay audiences.
For his professional accomplishments and contributions, Mr. Hooper has received a number of awards and recognitions, including Engineer of the Year (1995) from the Structural Engineers Association of Washington, Delahay Award (2005) from the National Council of Structural Engineers Associations, Professional Engineer of the Year (2008) from the Washington Society of Professional Engineers, SEI Fellow (2014), ASCE Fellow (2014), Walter P. Moore Award from the Structural Engineering Institute, Engineer of the Year (2019) from ACEC Washington, and election into the Washington State Academy of Sciences (2020).
Mr. Hooper has long been active with Berkeley CEE, as a periodic lecturer to structural engineering graduate classes, through collaboration with CEE faculty, through ten years of service as a PEER Center Business and Industry Partner, and as a key contributor to the 2017 PEER "Guidelines for Performance-Based Seismic Design of Tall Buildings."