Academy of Distinguished Alumni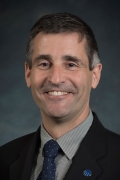 Ross W. Boulanger Ph.D., P.E., N.A.E.
Inducted to the Academy of Distinguished Alumni on
Ross Boulanger received his M.S. (1987) and Ph.D. (1990) degrees in Civil Engineering from the University of California, Berkeley. His graduate school focus was in geotechnical earthquake engineering. He also received a B.A.Sc. in Civil Engineering from the University of British Columbia. In 1992, he joined the Civil and Environmental Engineering (CEE) faculty at the University of California, Davis, rising from Assistant Professor to the rank of Full Professor in 2002. He has served since 2009 as Director for the Center for Geotechnical Modeling which operates the NSF-funded, shared-use, NHERI Centrifuge Facility. In 2020, he was appointed Distinguished Professor.
Professor Boulanger is a pre-eminent researcher, teacher, and consultant in the area of geotechnical earthquake engineering, with a focus on soil liquefaction and its remediation, seismic performance of dams and levees, seismic soil-structure interaction, and constitutive model development for seismic applications. He has been an expert consultant to engineering firms, facility owners, and government agencies on numerous dam safety and other major projects in the U.S., Canada, and other countries.
Professor Boulanger is the author of more than 100 papers published in leading technical journals, more than 150 technical conference papers, and one monograph (Soil Liquefaction during Earthquakes, 2008, with I.M. Idriss). He has served the profession as Chair of the ASCE Geo-Institute Awards Committee, Chair of the ASCE Geo-Institute Earthquake Engineering and Soil Dynamics Committee, Member of the Earthquake Engineering Research Institute (EERI) Board of Directors, Member of the United States Society on Dams (USSD) Board of Directors, and Chair of Technical Committee 203 – Earthquake Geotechnical Engineering of the International Society of Soil Mechanics and Geotechnical Engineering. He has also served as an Editor of the ASCE Journal of Geotechnical and Geoenvironmental Engineering. 
In recognition of his many accomplishments, Professor Boulanger has received the EERI Distinguished Lecture Award (2019), Indian Society of Earthquake Technology Shamsher Prakash Award (2018), Canadian Geotechnical Society Cross Canada Lecturer Award (2016), ASCE Ralph B. Peck Award (2016), Institution of Civil Engineers TK Hsieh Award (2014), ASCE Norman Medal (2006), and ASCE Walter L. Huber Civil Engineering Research Prize (2002). He was elected to the National Academy of Engineering in 2017.
Professor Boulanger has been a long-time friend of Berkeley CEE. He has been very active in the Berkeley-based Pacific Earthquake Engineering Research (PEER) Center and Geotechnical Extreme Events Reconnaissance (GEER) Association, has been a frequent guest lecturer at Berkeley, and has often collaborated with Berkeley Geosystems faculty.