Academy of Distinguished Alumni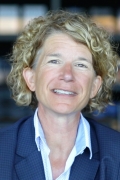 Julie L. Labonte P.E.
Inducted to the Academy of Distinguished Alumni on
Julie L. Labonte received her third engineering degree, an M.S. (1995) in civil and environmental engineering with an emphasis in water, from the University of California, Berkeley.  She started her career as a consultant for five years before joining the San Francisco Public Utilities Commission (SFPUC), where she moved up through the ranks from water quality engineer to director of San Francisco's rebuild of the famous Hetch Hetchy water system.
Ms. Labonte returned to the private sector in 2014, where she is widely recognized as one of the water industry's top worldwide program management experts.  Her track record involves delivering water programs with a total value of more than $20 billion.  She led the implementation of some of the most extensive and complex water capital infrastructure programs in North America, both as an owner and consultant.  In 2019, Ms. Labonte joined HDR to direct the firm's global water program management practice, which includes a broad range of advisory, multi-disciplinary services to support the delivery of large infrastructure programs. 
The American Society of City Engineers (ASCE) has recognized Ms. Labonte's contribution to the engineering field.  In 2013, she received ASCE's Public Sector Engineer in the U.S. Award.  Two years earlier, the organization acknowledged her as the Outstanding Civil Engineer in the Public Sector in California.
Beyond her work in service to public utilities, Ms. Labonte has a passion for service that extends to the developing world. As part of Water For People, she has taken on multiple volunteer assignments in Africa, leading teams to develop water systems in Rwanda and Malawi.  As a board member of Africa Development Promise, she advised the organization on providing women in rural districts with economic independence through a cooperative model.  Locally, Ms. Labonte fulfilled her other passion, the advancement of women in engineering, by volunteering over nearly a decade for School Mentoring and Resource Team (SMART), a San Francisco non-profit organization.
Ms. Labonte has returned to the Berkeley campus to support the CEE program as a guest lecturer, speaker at student gatherings, and participant in fundraising events.  She has also helped secure internships for Berkeley students and contributes to the program's continued excellence as a member of the CEE Advisory Council.