Academy of Distinguished Alumni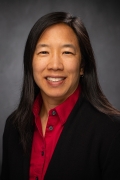 Linsey C. Marr Ph.D.
Inducted to the Academy of Distinguished Alumni on
Linsey Marr received her Ph.D. degree (2002) in Civil and Environmental Engineering from the University of California, Berkeley with an emphasis in air quality engineering and minors in mathematics and public health. Her B.S. degree (1996) was in Engineering Science from Harvard University. Following graduation, Dr. Marr was a postdoctoral researcher at MIT for one year before she joined the faculty in Civil and Environmental Engineering at Virginia Tech, where she is now the Charles P. Lunsford Professor.
Professor Marr is a world leader in transmission of viruses and other pathogens through the air. She has published more than 130 journal articles and has several of the most cited articles to have been published in the last two years. Collectively, her research articles have been cited nearly 10,000 times. Professor Marr has won acclaim for her research and academic activities at each career level, including the NSF CAREER Award in 2006, the NIH Director's New Innovator Award in 2013, Virginia Tech's Excellence in Teaching Award in 2019, and the Ut Prosim Scholar Award, Virginia Tech's highest faculty honor in 2021.
Professor Marr's service to the CEE community, and society more broadly, includes active participation with the National Academies in a series of review committees and her advocacy for science-based policy. She put this advocacy into practice during the coronavirus pandemic, and from the very earliest days of the pandemic, Professor Marr has been a leader of research into transmission of SARS-CoV-2 and has published more than 15 papers on the topic in just the past year. These publications include papers that have already been cited hundreds of times. Just as importantly, Dr. Marr has demonstrated a remarkable skill in, and a commitment to, the communication of science to the public. Throughout the pandemic, she has worked tirelessly to ensure the most recent scientific results are correctly and clearly disseminated to the public, and she was one of the earliest and most effective advocates for public health interventions that focused on airborne transmission of the virus. As part of this outreach, she has performed over 400 interviews, written op-eds in both the New York Times and the Washington Post, and has been quoted or mentioned in the news more than 12,000 times since March 2020, with an estimated reach of 238 million people in 79 countries.