Academy of Distinguished Alumni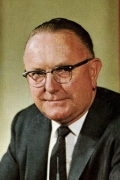 Richard Woodward Jr. M.S.
Inducted to the Academy of Distinguished Alumni on
Richard J. Woodward, Jr. was one of the three founders of Woodward-Clyde Consultants and its chairman for many years.  He received a Bachelor's Degree in Geology from Colorado College in 1930. Just prior to WWII, he moved to California where he designed repairs to submarines at the Mare Island Naval Shipyard.  At the end of the war, he attended the University of California, Berkeley, where he received a Master's Degree in Soil Mechanics and Foundation Engineering.  After graduation in 1947, he joined the Civil Engineering faculty at Berkeley where he lectured for three years.
While on the Berkeley faculty with contemporaries Ned Clyde and Arnie Olitt, they formed a business partnership in early 1950 to provide consulting services in the emerging field of Geotechnical Engineering.  Their initial part-time business developed quickly, and all three left the university to devote themselves full-time to their new endeavor.  In 1951, the firm Woodward-Clyde and Associates was established as a corporate entity.  Mr. Woodward became its leader, providing the strategic vision and business acumen that enabled Woodward-Clyde to become one of the premiere geotechnical and applied earth sciences firms in the world.  After his retirement in 1973, Woodward-Clyde continued to grow becoming a global engineering company, with more than 2,600 employees in 17 countries.
Mr. Woodward was a pioneering and innovative business leader in the field of Geotechnical Engineering. As a business leader, Mr. Woodward emphasized and encouraged technical excellence and high-quality technical writing. He established an employee stock ownership and profit-sharing programs that were long a model for other engineering firms. In the 1960s, recognizing the problems geotechnical firms were having finding professional liability insurance, he led establishment of the Design Professionals Insurance Company that focused on insuring civil engineering and design firms.
Beyond his success as a business leader, Mr. Woodward was an outstanding Civil Engineer. He co-authored two books widely used around the world: Earth and Rockfill Dams (John Wiley and Sons, Inc., 1963) and Drilled Pier Foundations (McGraw-Hill, Inc., 1972). He made major contributions to foundation, dam, and other geotechnical projects in California and throughout North America. Along with H. Bolton Seed and Raymond Lundgren, he received the 1964 ASCE Thomas A. Middlebrooks Award for their papers Fundamental Aspects of the Atterberg Limits both published in the ASCE Journal of the Soil Mechanics and Foundations Division. He received the Distinguished Engineering Alumnus Award from the Berkeley College of Engineering.
Mr. Woodward was active in the San Francisco Bay Area community, donating his time and resources to educational, social, and religious causes. He was active for many years with the Berkeley Equal Opportunities Commission and the Mayor's Commission on Housing in Oakland. Mr. Woodward was born in Pueblo, Colorado in December 1907 and died in Oakland in August 1998 at the age of 90.