Academy of Distinguished Alumni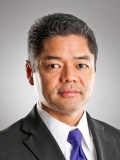 Ken J. Susilo P.E., D.WRE
Inducted to the Academy of Distinguished Alumni on
Ken Susilo received his B.S. (1990) and M.S. (1991) degrees in Civil Engineering from the University of California, Berkeley. His graduate school focus was in the area of water resources engineering. After graduation, Mr. Susilo began his career with Woodward-Clyde Consultants in Oakland, California, then joining Psomas in Los Angeles in 1999. In 2004, Ken joined Geosyntec Consultants, also in Los Angeles, where today he serves as Senior Principal and Director of the firm's California Water practice.
Mr. Susilo has more than 30 years of regional and national practice leadership in planning, studies, and engineering for urban watershed master planning, low-impact urban stormwater management, stormwater recharge to groundwater, and wetlands restoration. As a practice innovator, he is recognized throughout southern California for the development of multi-benefit, cost-effective, and sustainable solutions to the growing water resource and water quality challenges of the region. More recently, he has been an industry project delivery innovator, integrating Triple Bottom Line (social, environmental, economic), ESG (environment, social, governance), and Public-Private Partnership (P3 and Community Based P3) concepts into project delivery.
Mr. Susilo has twice been recognized as the American Society of Civil Engineers (ASCE) Outstanding Civil Engineer in the Private Sector (Section and State of California). His projects have received awards from ASCE, the California Stormwater Quality Association, American Public Works Association, Water Environment Federation, League of California Cities, and California Water Environment Association. He is also an engaged champion for diversity, equity, and inclusion (DEI) in the engineering profession, serving in leadership positions for the Asian American Architects/Engineers Association, and as a co-founder of Geosyntec's Diversity Council. He and his staff have partnered with programs supporting disadvantaged communities to teach middle school students about sustainability, green infrastructure, and stormwater management.