Academy of Distinguished Alumni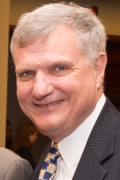 Mark Bley B.S.
Inducted to the Academy of Distinguished Alumni on
Mark Bley received his B.S. (1979) degree in Civil Engineering from the University of California, Berkeley, with an emphasis in construction engineering and management. Bley started his career with Granite Construction at the Helms Pumped Storage Power Project followed by the Los Angeles Department of Water and Power. He joined Dome Construction in 1981 and in 1993, he created a group that specialized in the construction of biotech and life sciences facilities.  In 2008, he became the CEO of Dome.  He retired as CEO in 2019 while remaining Chairman of the Board.  Under Bley's leadership, Dome grew to a $600 million per year live-sciences and commercial building contractor in California, with an unparalleled commitment to process improvement.
Mr. Bley has made philanthropy a personal and professional commitment, with emphasis on programs for marginalized youth.  He is currently Vice Chair of the Board for ICA Cristo Rey and on the boards for YMCA of San Francisco and All Stars Project.  After recently stepping aside as Chairman of Dome, Bley continues to chair the Board of Directors of the Dome Construction Foundation which he founded. 
Mr. Bley has been a committed supporter of the CEE department, the Engineering Project Management program, and the Cal Construction Team for many years, and his philanthropy has provided critical support for the CE Scholars Program, Graduate Student Fellowships, instructional support, and other student-led organizations.  Additionally, Bley continues to provide active thought partnership with Berkeley CEE with a focus on how to provide leadership training and experience for CEE students.