Academy of Distinguished Alumni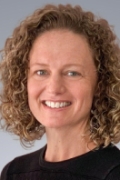 Lisbeth B. Collins P.E., S.E., LEED AP
Inducted to the Academy of Distinguished Alumni on
Ms. Lisbeth Collins received her B.S. (2004) degree in Civil Engineering with a Structural Focus from Princeton University and her M.S. in Structural Engineering Mechanics and Materials from the University of California, Berkeley.  Collins is the Vice President of Engineering for Build Change and is one of the world's foremost authorities on the creation of buildings standards in the developing world, in some cases where standards never existed before.
After beginning her career with Degenkolb Engineers, she joined Build Change in Haiti as Lead Structural Engineer, then moved into a global leadership role as VP of Engineering.  Collins applies her expertise to create new or adapted technical resources, develop and implement systems for construction supervision, and advocate for disaster-resilient housing with stakeholders globally.  In 2020, she spearheaded the creation of incremental retrofitting options for Build Change's worldwide clients in order to make retrofitting more accessible to homeowners while maintaining technical excellence.
With Ms. Collins' technical leadership, Build Change has developed reference documents for disaster-resistant housing or retrofits that have been adopted/endorsed at the national level in the Philippines, Colombia, Haiti, Guatemala and Nepal, resulting in 500,000+ people living in safer homes.  Collins has directly conducted or provided remote support for post-earthquake, post-hurricane and housing subsector studies in Indonesia, Haiti, Ecuador, Nepal, Hawaii and the Caribbean.  She received the SEAONC Excellence in Engineering Award in 2013 and the EERI Shah Family Innovation Prize in 2016.
Ms. Collins has remained connected to the Berkeley CEE community through mentoring programs with Prof. Mahin and presenting "Driving Change Through Design" at UC Berkeley's Engineers for a Sustainable World Annual Conference.