Academy of Distinguished Alumni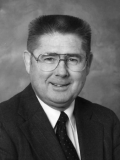 James E. Roberts B.S., N.A.E.
Inducted to the Academy of Distinguished Alumni on
James E. Roberts received his B.S. (1953) degree in Civil Engineering from University of California, Berkeley. After graduating, he began a 50-plus-year career in public service, fulfilling roles with the US Army, US Army Reserves, and the California Department of Transportation (Caltrans) in the area of bridge construction. Through his tenure at Caltrans, Roberts was appointed as the State's Bridge Engineer, and later as Chief Engineer. He passed away in July 2006, at the age of 75.
Roberts carried out an illustrious career overseeing the seismic design of concrete structures across California, including some of the most active years for engineering. From the design and construction heyday of the 1950s and 1960s to his leadership during the reconstruction efforts and seismic retrofitting programs created after the 1989 Loma Prieta earthquake and the 1994 Northridge earthquake, his engineering legacy is seen throughout the State. Roberts was a member of the American Society of Civil Engineers, the Structural Engineers Association of California and served one year (1972) as State President of the Professional Engineers in California Government. He was also an Honorary member of the American Concrete Institute, among many others.
Mr. Roberts was a distinguished civil engineer, recognized with industry and government awards for his leadership in bridge engineering and seismic retrofit. In 1996, Roberts was inducted into the National Academy of Engineering for the development and implementation of innovative bridge retrofit concepts and criteria under seismic conditions. In 2001, he received the Roebling Medal by the ESWP Engineers Society of Western Pennsylvania for Lifetime Achievement in Bridge Engineering. After Roberts's death, in 2007, the Members of the California State Legislature passed the bill to rename the Tuolumne River Bridge as the James E. Roberts Bridge, one of the many structures designed under his skilled oversight.