Academy of Distinguished Alumni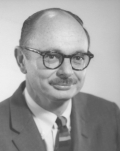 Warren J. Kaufman Ph.D.
Inducted to the Academy of Distinguished Alumni on
Warren John Kaufman, born in Rome, New York, received his B.S. (1943) degree in Civil Engineering from University of California, Berkeley. Following several rounds of military service and three years as a lieutenant in the US Army, Kaufman earned his M.S. and Ph.D. from the Massachusetts Institute of Technology (MIT) in Sanitary Engineering. Kaufman then returned to Berkeley, where he joined the research staff at Richmond Field Station and was soon after appointed as a faculty member. Kaufman passed away in 1973, at the age of 51.
Mr. Kaufman was ahead of the times in the field of environmental engineering education and the science of water quality control, setting the standard of excellence in the field. After joining the Richmond Field Station, it quickly became apparent that he possessed the exceptional keenness of intellect, energy, and imagination that the University seeks for its faculty. He was appointed to the faculty of both the School of Public Health and the College of Engineering in July 1952. In 1961 he received the additional title of Professor of Radiological Engineering. In 1966 he became the Associate Director of the Sanitary Engineering Research Laboratory in Richmond and in 1969 he became the Director of this laboratory.
In research, Dr. Kaufman exhibited an exceptional ability to evaluate both current and forthcoming environmental problems in terms of priority and scale. He was also deeply engaged in the development and improvement of Sanitary Engineering education. Kaufman was a founding member and Secretary-Treasurer and active contributor to the Association of Environmental Engineering Professors. As a teacher he was one of the finest. His lectures were always well prepared and updated to incorporate latest developments and to excite the imagination of the students, who adored him.