Academy of Distinguished Alumni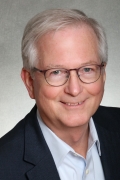 Jack P. Moehle Ph.D., P.E., NAE
Inducted to the Academy of Distinguished Alumni as an Honorary Member on
Jack P. Moehle (Honorary Member) received his BSCE (1977), MSCE (1978) and Ph.D. (1980) from the University of Illinois, and is recently retired, after 41+ years as the Ed & Diane Wilson Presidential Chair in Structural Engineering, with Berkeley CEE.  Moehle joined the UC Berkeley faculty in 1980. He was the founding director of the Pacific Earthquake Engineering Research Center, serving until 2008 in that role.  He is the past director of the Earthquake Engineering Research Institute. Moehle was elected a member of the National Academy of Engineering (NAE) in 2014 for his contributions to earthquake-resistant design and analysis of building structures, and for his leadership in engineering education.
Prof. Moehle has helped lead the development of numerous codes and guidelines for the design and retrofit of structures including Guidelines for Evaluation and Repair of Masonry and Concrete Walls; Guidelines for Seismic Rehabilitation of Buildings; Performance-Based Seismic Assessment Procedures; and Guidelines for Performance-Based Seismic Design of Tall Buildings.  His noteworthy publications, awards and honors take up numerous pages of his CV.  Besides being elected to the NAE, a few of Moehle's most distinguished awards include Fellow, Structural Engineers Association of California; Honorary Member, ACI; Fellow, SEI; George W. Housner Medal, EERI; and Honorary Member, EERI.
Moehle has served on, and now chairs, the campus' Seismic Review Committee, insuring the design integrity and excellence of all retrofitted and new construction projects on campus.  Since its inception in 2012, Jack has been a loyal and steadfast sponsor of the Academy of Distinguished Alumni's Annual Induction Gala. Prof. Moehle's career as an educator and researcher has led to a ubiquitous impact on academicians and practitioners all over the region and the country.