Academy of Distinguished Alumni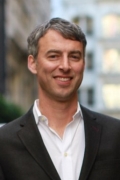 S. Bry Sarté P.E., LEED AP
Inducted to the Academy of Distinguished Alumni on
S. Bry Sarté received his B.A. (1993) in Fine Art, from the University of California, Santa Cruz, and his B.S. (1996) from the University of California, Berkeley. Sarté is the Principal Founder of Sherwood Design Engineers, since 2002, and Founder and Executive Director of the Sherwood Institute, since 2009. Sherwood Design Engineers is a leading international practice of civil and environmental engineering that applies innovative design to the creation and implementation of sustainable infrastructure. Published internationally, Sarté is a leading designer and academic in ecological and sustainable engineering. He is the author of numerous articles and two books on creative engineering approaches to water resource management and urban transformation.
Mr. Sarté has contributed significantly to global environmental issues addressing the intersection of infrastructure, climate, ecological, and urban design. Notable projects led by Sarté include Hudson Yards in New York City, San Francisco's Better Streets plan, revitalization of the iconic waterfront Brooklyn Bridge Park, the award-winning Greater New Orleans Urban Water Plan, and the 35 sq. km. Baietan Urban Area Plan in the heart of Guangzhou, China.
Sarté's studio has worked on a wide range of campus engineering projects centered on climate resilience, including the UC Berkeley Student Center and Lower Sproul Plaza, the Campus Master Plan, the Gateway Building, and more. He has been actively engaged in connecting these projects to engineering coursework, notably his recent teaching of a graduate course in "Climate Resilient Infrastructure", a project-based course in which students work on engineering designs for particular case studies that can address the wide array of vulnerabilities created by climate change and social systems. Sarté has also served as an adjunct professor and lecturer at other top universities, developing and teaching coursework on green infrastructure systems.