Academy of Distinguished Alumni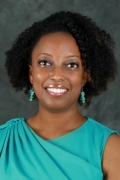 Zakiya Seymour Ph.D., P.E.
Inducted to the Academy of Distinguished Alumni on
Zakiya Seymour received her B.S. (2001) from Tennessee State University, her M.S. (2006) in Civil & Environmental Engineering from University of California, Berkeley, and her Ph.D. (2013) in environmental engineering from Georgia Institute of Technology. Dr. Seymour is developing broad and progressive experience in research, problem-solving and leading teams on large-scale, data-driven projects with multi-sector leadership in industry, academia, governmental agencies, and non-governmental organizations. Currently an Expert Management Consultant at Arcadis, Seymour develops and delivers the best-in-class strategy and business solutions to municipal and industrial clients. She is licensed as a Professional Engineer in the State of Georgia.
Dr. Seymour has been a leader in advocating for sound, equitable environmental policy and actions, and is currently serving a 6-year term on the External Advisory Board for the School of Civil and Environmental Engineering at Georgia Tech.  She is additionally serving on the Board of Trustees of the Southern Environmental Law Center, which is a key advocate for environmental and climate justice. Committed to equity, Seymour also is on her first term as Board Member of Lovinklaan – an employee led foundation advocating for the empowerment of all employees to reach their full potential and drive meaningful change.
As Berkeley CEE evolves its curriculum to integrate courses on Social Justice in Engineering and Inclusive Infrastructure, Dr. Seymour is bringing her expertise and experience into our classrooms to engage Berkeley CEE students with the work that Arcadis is doing in this space. She has been a lifelong champion of DEIBJ and serves as a mentor for young professionals within Arcadis and beyond, supporting the next generation of diversity in thought, and practice within the field.