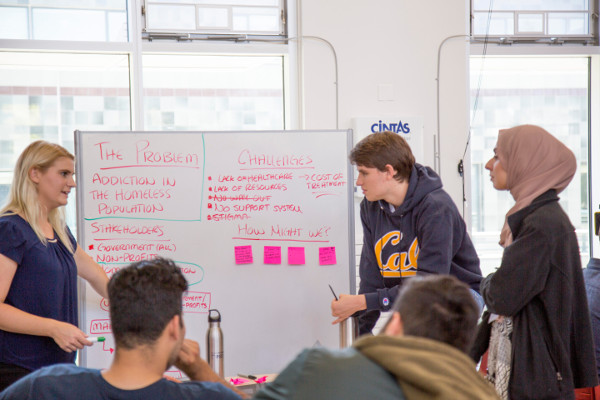 Master of Engineering (MEng)
The Master of Engineering is an accelerated degree designed to develop professional engineering leaders of the future who understand the technical, economic, and social issues of technology.
The CEE MEng degree brings together expertise in a technical specialization with leadership, business, marketing, finance, and management skills. Culminating in a hands-on team-oriented capstone design project, you will apply engineering and business acumen to real-world challenges.
Innovative. Holistic understanding of engineering and business. Choose between full-time or part time enrollment. Integrative capstone design project.
Career-oriented. Increases likelihood of advancement toward goals after 1 year of intensive industry-related study. Career advice to help with professional development and placement.
Regular contact with industry. Industry partners help you apply technical knowledge to critical current issues. Guest lecturers share successes and failures.
Small and cross-disciplinary. Technical class size ranges from 10-30 students to a weekly lecture of 150. Leadership courses range from 25-50 students.
TOP-RANKED PROGRAM IN THE COUNTRY
Berkeley CEE graduate programs are consistently ranked number one among all the civil and environmental engineering programs in the U.S.
SNAPSHOT
Completed in 9 months (fall & spring semesters)
25 units of coursework in 3 areas: core leadership, your technical specialty, your capstone project
All classes taught on Berkeley campus by award-winning faculty
Cross-disciplinary cohort with students from other Berkeley engineering departments
Small classes for maximum interaction with students, instructors, and industry collaborators
Career advising and placement, access to alumni and industry connections, as well as Silicon Valley luminaries.
TWO TECHNICAL CONCENTRATIONS
Large Cyber-Physical Systems
This MEng degree track prepares you to use computational innovations for sensor networks, cloud computing, behavioral science, mobile communications and distributed parameter control to create entrepreneurial solutions for industries such as transportation, water, or energy.
Intelligent Transportation Systems
This MEng degree track prepares you to explore expanded surveillance, communication and computing technologies that are enabling unprecedented opportunities for developing and deploying innovation that benefits managers, service providers and system users. You will learn to use a mix of technical and business skills to capitalize on the opportunities in the transportation infrastructure. Examples include assessing impacts of future mobility systems involving automated vehicles, and smart utility systems for electric cooperatives.
CURRICULUM
The innovative and experiential MEng curriculum is popular with recent B.S. graduates as well as among those already working in the field.
Degree requirements include 25 units of coursework in 3 areas: