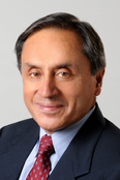 Congratulations to Professor Anil Chopra for being awarded the Berkeley Citation.
The Citation is one of the University's highest honors.  It is awarded to individuals whose achievements exceed the standard of excellence in their fields.  The Chancellor works closely with an advisory committee to confidentially select each recipient.
Chair Robert Harley presented the Citation to Professor Chopra on May 5, 2016 at the annual Structural Engineering, Mechanics and Materials graduation lunch.