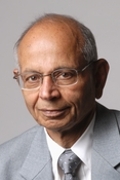 CEE Professor Emeritus Povindar Kumar Mehta passed away on Aug. 7.  He was 88.
Professor Mehta joined the CEE faculty in 1963, and he taught in the department until his retirement in 1993.
He received his BS in Chemical Engineering at Delhi Polytechnic, an MS in Ceramic Engineering at North Carolina State College, and his Doctor of Engineering in Materials Science at UC Berkeley.
Professor Mehta developed techniques of energy saving and waste material utilization in the manufacture of cement and was a world expert in the development of "green concrete." 
He was named a Fellow of the American Ceramics Society in 1981, and in 1984, he was named a Fellow in the American Concrete Institute (ACI). In 1988, the ACI awarded Professor Mehta the prestigious Wason Medal for Materials Research. He received the ACI/CANMET award for contributions to the knowledge of the physical and chemical influences on concrete performance in marine environments. He received the Malhotra Award for outstanding contributions to research on supplementary cementing materials.
In 1993, Professor Mehta received the Berkeley Citation. One of the University's highest honors, the Citation recognizes those whose contributions to UC Berkeley go beyond the call of duty and whose achievements exceed the standards of excellence in their fields.
In 2006, he received a Lifetime Achievement Award from the Coal Combustion Products Partnership in recognition of his "outstanding research for decades on the use of fly ash in structural concrete."
Prof. Mehta taught courses in civil engineering materials, advanced concrete technology, and concrete construction. He wrote the book, "Concrete: Structure, Properties, and Materials," (Prentice-Hall, 1986), and he contributed chapters to other seminal books on the properties of concrete.
Funeral services will be held at 11am on Wednesday, Aug. 14, at Sunset View Mortuary, 101 Colusa Avenue, El Cerrito, CA, 94530.  (Phone:  510.525.5111)
In lieu of flowers, the family requests a donation to Indians for Collective Action (ICA) in Professor Mehta's honor. ICA's address is 3838 Mumford Place, Palo Alto, CA 94306.