Maya Carrasquillo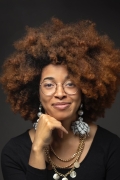 Energy, Civil Infrastructure and Climate, Environmental Engineering
Office Hours:
Office Hours for Fall 2022: 
CE 290, Mondays and Wednesdays from 1:00-2:00pm PST in-person or via Zoom
'Coffee Chats with Dr. C' offered on Mondays from 11am-1pm PST, sign up here
Biography
Dr. Maya Carrasquillo (pronouns: she/her/hers) is an Assistant Professor in the Civil and Environmental Engineering Department at the University of California, Berkeley and the PI of the JEDI (L)ab. She was previously a Management Consultant at Arcadis U.S. in Atlanta, GA. She earned her Ph.D. in Environmental Engineering from the University of South Florida in 2020 and her B.S. in Environmental Engineering from the Georgia Institute of Technology in 2015. Her research interests include sustainable and equitable urban water infrastructure, food-energy-water systems (FEWs), community-engagement and citizen science in decision-making, and environmental/social justice. She is a certified Envision Sustainability Professional (ENV SP). She is also a College of Engineering Huelskamp Faculty Fellow. 
Education
2015: B.S. Environmental Engineering, Georgia Institute of Technology, Atlanta, GA
2020: Ph.D. Environmental Engineering, University of South Florida, Tampa, FL