The CEE Academy of Distinguished Alumni announces the 2015 class as well as posthumously honors deceased CEE Professor Emeritus Egor Popov and Mr. Barney Vallerga, renowned authority on pavement design and technology.
The 2015 class:
Ms. Eleanor Allen, CEO, Water for People
Mr. Glenn Bell, CEO, Simpson Gumpetz & Heger, Inc.
Prof. Reginald DesRoches, Karen & John Huff School Chair & Department Chair, Department of Civil & Environmental Engineering, Georgia Institute of Technology
Mr. Uri Eliahu, President & CEO, ENGEO, Inc.
Dr. Marwan Nader, Senior Vice President, Technical Director & Member of Board of Directors, T.Y. Lin International
Dr. Denny S. Parker, Senior Vice President, Brown & Caldwell
Dr. Y.R. (Joe) Rashid, Senior Advisor, Anatech-Structural Integrity
Dr. Larry Russell, President, REED International, Ltd.
In Memoriam inductees:
Egor Popov (1913-2001), Professor Emeritus of Civil (Structural) Engineering
Barney Vallerga (1921-2013), renowned authority on pavement design and rehabilitation and asphalt material technology
Academy of Distinguished Alumni banquet
On the evening of Oct. 8, the Academy of Distinguished Alumni will hold its banquet to honor the 2015 class. The banquet will be held at the University Club of the California Memorial Stadium on the Berkeley campus.
The event begins with a reception at 5:30pm followed by a dinner.
Contact Debbe Ali of Geosyntec Consultants to RSVP for the Academy Banquet and purchase tickets.
Ticket prices
Faculty and spouse: $50 per ticket
Assistant professor: complimentary
Others: $80 per ticket
Directions and parking
See instructions and map.
If you are attending the CEE Distinguished Lecture prior to this event; please reserve your seat(s) by
registering, or contact
bears@berkeley.edu
. Follow the same driving and parking directions as above.  
Valet service will be available starting at 2:30 pm. Shuttle bus loop service from the Stadium to the
Bechtel Engineering Center will also be available beginning at 2:30pm. The shuttle will provide transportation back to the stadium for the Academy reception and dinner.  
Sponsorships support undergraduates as well as banquet
You can be a 2015 Academy sponsor (Blue-$6000, Gold-$3000, Silver-$1500). Funds from sponsors support the banquet and the new CEE Undergraduate Research Opportunity Program (UROP), a highly selective program that targets the top 20 to 25 high school students admitted to CEE every year and offers each of them a guaranteed faculty-mentored research experience, along with research-focused seminars and a $4000 stipend distributed over 3 years.  See current UROP students and their research projects.
In the past 2 years, approximately 50% of sponsorship funds raised supported UROP. The 2013 and 2014 Academy sponsors gave $50,000 to UROP.
If you would like to be a sponsor, contact Mike Kavanaugh of Geosyntec Consultants at mkavanaugh@geosyntec.com.  Please see Academy programs from 2012, 2013 and 2014 for past acknowledgements of generous sponsors.
Individual Support of ADA and UROP
Those who wish to support the ADA and UROP but are unable to attend the banquet or be a sponsor, may contribute by submitting the 2015 Pledge Form or by donating online at give.berkeley.edu/CEEAcademy.
CEE Fall Distinguished Lecture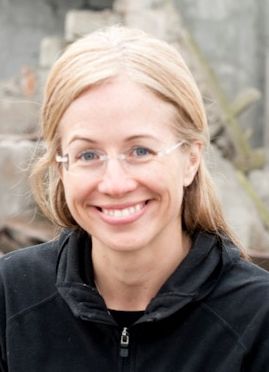 The banquet will be immediately preceded by the 2015 CEE Fall Distinguished Lecture. The lecture will be given by Academy 2014 inductee Elizabeth Hausler Strand, Founder and CEO of Build Change.  Hausler Strand will speak on "Disaster-Resilient Building and Economic Development in Emerging Nations." See abstract.
The lecture will be held in Berkeley's Sibley Auditorium, 3:30-4:30pm, followed by a reception in Garbarini Lounge.
The lecture and reception are open to the UC Berkeley community.
The 2015 Fall CEE Distinguished Lecture is presented with generous support from the Warren A. and Marjorie C. Minner Endowment for Engineering Ethics and Professional & Social Responsibility, which supports the College of Engineering in its mission to impart to its students the principles and foundations of ethical responsibility.
Background
The CEE Academy of Distinguished Alumni (Academy) was established in 2012 to recognize the professional achievements and contributions of CEE alumni. The accomplishments of many of these alumni are truly noteworthy and have contributed greatly to societal well‐being and development, both in the US and around the globe.